STUDENT
Management
Student Management is capable to handle large amount of student data with accurate information. Student's interest is the main aim of Genius developers. Teachers and Principal can guide the students in the process of registration and their admissions. The management system is helping the educational Institutes in establishment and to manage student data.
Genius Education management provide capabilities in Schools / Colleges / Universities for registration and enrollment of students in various courses; results of student exams and other assessment scores; creating student schedules and time-table, regular tracking of student attendance, and other student-related data which is essential for the school.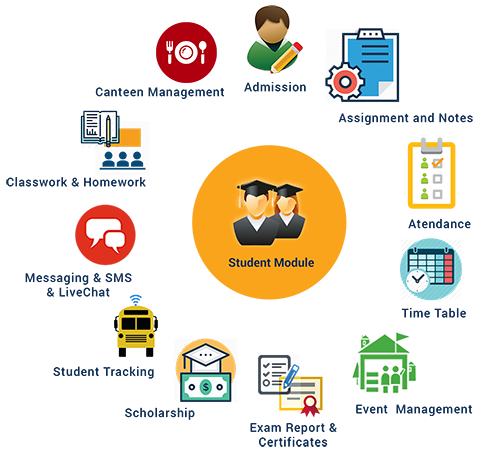 Allocating them class, section, tasks, assignments and Class notes and helping in analysis of the student performance and Teacher's performance in teaching diverse subjects and courses, the system is also built with the purpose of tracking students daily attendance and manage their academics, tasks, events, leaves using the system.
Moreover, Students will learn about new generation technologies with their daily academic activities with simple architecture and easy to understand user interface for students. Students are the key component of every educational institute. They attend and pursue in an educational institution, which gives them persistent knowledge and ambition to achieve the heights of success.
We have developed the system which can simplify and digitalize the whole operation management of Institutions. With the help of Genius Education management, we have build the structure that young generation will easily understand, as its user interface is very interactive and students can implement it in their daily educational life. Digital integration gives more smart features to the users that are highly comfortable to work with and maintain.
KEY FEATURES OF
STUDENT MANAGEMENT

Teachers can directly allocate and add Assignment & Notes to the students, they can view the Assignment of their Class and their assigned Subjects. Students can view their daily assignments and Class Notes, which will be uploaded by their respective class teachers using the interactive Mobile App in their mobile phones.
Teachers will upload the Assignments & Notes regularly in the system which can be viewed from Desktop web system as well as Mobile App. Students can view the class teacher's name who allocated assignments & Notes and the date of Submission of the same.

Genius Education management provides the optimized feature of adding the different academic events for the students through the event management module. The Teachers / Admin can add all types of events like : Sports day, Annual Day celebration day, Cultural festival day, and Teacher's day celebration. They can also add and manage the public holidays of the year so that students and parents can be notified about the same. This feature will help in creating and adding the different types of events, organized by Institute such as Festivals, Annual and sports day.

In this feature Teachers / Admin can create different tasks for the respective users to complete them according to their set priority and assigned date. They also have rights to add task name with proper description of the tasks. Parents can check the daily, weekly and monthly task assigned by the teacher for their children and monitor the task status according to their priorities
This will help in assigning and creating customized tasks with different topics for different users (i.e, Students, Teachers or Employee) upon priority.

From the time table feature, teachers / admin can add and view different types of timetables, like Exam time table, School Events time table, Food menu time table, Class time table.
Teachers / Admin can create the time-table for each and every academic activity this will help the student in scheduling his/her time and can assign their time accordingly to each and every academic activity. This feature will help to create, maintain, update and supervise different subjects, food-menu and Exam time-table.
Canteen management system provides a user friendly interface which will help in viewing food menu. The admin can add and update the food menu, maintain coupon records and deliver regular updates to students and the staff. User can see the routine Hostel canteen menu from the system and mobile app. Similarly, Parents can see all this hostel details from their access by checking everyday Canteen menu and other details.

Genius Education management provides easy-to-use and robust platform which guides in streamlining scholarship process. You can create and personalize applications through single platform and manage all of the administration process and connect easily with the candidates. Admin can create and conduct scholarship programmes. Thus, Students will get financial aid to carry on further studies in their respective fields.

Genius Edusoft provides portable device which can be used for live student tracking. Admin, Teachers and Parents can track and monitor on real time basis through Genius cross platform system.

It provides the feature of directly sending the email or chat message to the students / Employees from the administration. It also allows the Email notification facility that leads to better communication system.
They can personally inform the employees and students about any updates, also parents can see or check the messages sent by admin or teachers with particular subject, date and message.

In leave management, admin can add different categories of leaves like : Medical leave, Casual leave, Maternity leave, Education leave etc. Admin can see the total leaves taken by the students / staff and also can approve the leaves applied for, if any by the students / staff. Also, admin have rights to check the total leaves taken and total leaves remaining of the employees. He/she can check daily, weekly and Monthly list of leaves taken by the employees. User can Create, Manage and Assign Casual and Sick leaves managing with holiday calendars.
Likewise, Teachers can also add their leaves, and manage them from the total available yearly leaves of the academic period. They can also check the total leaves taken, and remaining balance leaves from this module, as it will help the teachers to schedule their sick and casual leaves accordingly.
Benefits of
STUDENT Management
Simple architecture and easy to understand for students.
Better mobility for Administrators, Teachers, Students, and Parents.
Tracking and monitoring of records for every single entity.
Get daily notifications of every new update.
Unique Id and Password for every user.
Manage tasks, leaves, events at single platform.
View Canteen menu items for everyday routine.
Admin can assign different rights to different users.
The tagline "Enhancing Education System" explains that its user interactive, flexible, robust and easy to access platform, which can be installed in any generation device.