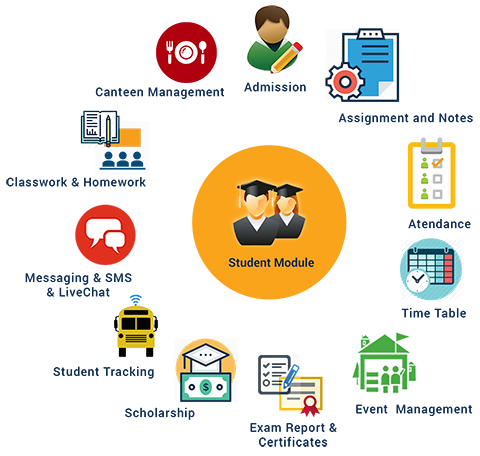 Student Management System is capable to handle considerable amount of big student data and provides accurate information.Student's interest is the main aim of Silicon Valley developers. Teachers and Principal can guide the students in the process of registration and their admissions. The management system is helping the educational Institutes in establishment and to manage student data.
Silicon Valley Education management provide capabilities in Schools / Colleges / Universities and Institutes for registration and enrollment of students in various courses; results of student exams and other assessment scores; creating student schedules and time-table, regular tracking of student attendance, and other student-related data which is essential for the school.
Allocating them Class, Section, Tasks, Assignments and Class Notes, to analyse and Assess the Student Performance as well as Teacher's performance in teaching diverse Subjects and Courses, the system is also built with the purpose of tracking Students Daily Attendance and manage their Academics, Tasks, Events, Leaves using the system. Moreover, Students will also learn about new generation technologies with their daily academic activities with simple architecture and easy to understand user interface for students.
KEY FEATURES OF
STUDENT MANAGEMENT
ADD STUDENT/ STUDENT LIST

Silicon Valley Education Management helps Schools/Colleges/Institutes & Universities to add student's data easily and in less time. It includes Official Details like Academic Year, Stream/Department , GR Number , Class & Section.If any Biometric Device or GPS Tracking System is there, so that data can also be managed . Personal Details like Name , Gender , Caste , E-mail and Student Image can also be uploaded . If the new student have any Sibling in the school , so that data can also be managed. Credentials which are assigned to the students can be managed through our system. Details regarding the Past School (if any) can also be kept. Fees Collection can also done easily with the help of the system and if we are providing Scholarship then verification of Income Certificate & Caste proof can be taken.
GUEST STUDENT FORM

In this module a student form will appear after entering Mobile Number or E-mail I'd , after that OTP will generate that we have to enter in the module then we will get the form. That Student Guest Form can be filled either by Parents or by Student.
GUEST STUDENT LIST

In Guest Student List Fees Category , Credential and the form which we have submitted in guest student form module everything can get verified from the Campus Management side . After the verification of the form is done , the class which student have selected at the time of filling the form , overall data will be delivered in that particular section of the class.
STUDENT REMARK
Student remarks can be added by searching with the help of GR Number or Mobile Number , after entering that all the data will automatically appear of that particular student. Teacher & Principal can give Positive or Negative remarks to the students along with the Description. Parents can see the remarks in the Mobile Application as well.
STUDENT PERFORMANCE REPORT

Silicon Valley Education Management System helps to generate Student's Performance Report . The report for a particular student can be made by adding Stream/Department , Shift , Class , Section and Name of the Student . Student Report is based on the Attendance , Remarks and Exam Results.
ALLUMANY STUDENT LIST

In this module , the Student who Pass out the School or who left the school that data can be recorded with the help of our System . Once a student gets alluminated , he/she cannot be able to login with their respective credentials.
ALLUMINATE STUDENT LIST
The list of the Allumany students will be shown in this module . Admin & Principal can see the list in case of any queries.
ADMISSION REPORT

New Admissions or Students who have applied for the Admission Online , that record can be managed in this module. Keeping the data of New Admissions can be easily done with the help of our ERP System. The data can be searched by adding name of the Stream , Class and Section.
Benefits of
STUDENT Management
The tagline "Enhancing Education System" explains that its user interactive, flexible, robust and easy to access platform, which can be installed in any generation device.