Finance Management
Educational Sectors like Schools / Colleges / Universities & Institutes are usually recognized as Charitable Organization . Thus the purpose of Silicon Valley is to help Promoting , Developing and Enhancing the quality of Educational Services with support of Financial Management . Mostly the educational institutes are managed as non-profit organization, which leads to negligence in financial aspects. It needs to have persistent growth with adequate funds for the development and the infrastructure needs. Thus, there should be standardized and smooth Financial Management in every educational institute whether it is Profit or Non-Profit Organization. It have very different point of view for Finance Management, as they believe that its mainly to manage funds and other basic activities for the development and handling of the institutes. It is more focused and centralized in systematic way for development and acquisition of funds. Finance management is used to stabilize the financial position of the organization.
Educational institutes wants to have proper financial information and survival tactics in a competitive environment. Major success depends on ability to collect and use financial information in true sense. Institutes that are maintained well, contains right set of required financial information. Certain rules, laws and procedures are very well defined in educational institute with the help of financial decision making.
KEY FEATURES OF Exam Management
MASTERS
Finance Management can handle and operate various kind of Masters like : Account Masters , Bank Master and Tax Master . The module named Account Masters includes Name of the Account , Full Name , Balance Amount , Group Name . In Bank Master it requires the Name of the Bank , Branch , Name of the Account Holder , Amount for Opening Balance , Bank Account Number , IFSC Code , Address of the Bank , Country , State , City , Bank Logo , POS Connection ( Yes or No). Tax Master Listing includes Tax Name & Rate of Tax.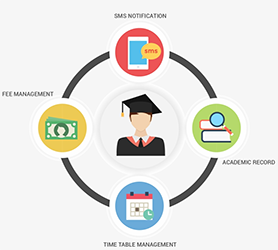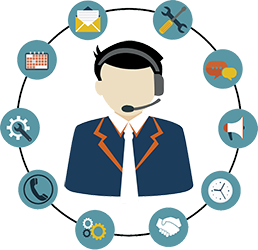 ACCOUNT MANAGEMENT
Admin can add the account master list, with Account name, Balance and group name, it will handle all the accounts related activities and also helps to view the account master list. In Bank Transaction the Name of the Bank, Withdrawal of the amount can also be done with the help of Voucher No , Date of Transaction & Amount , Deposit , Transfer , Payment and Receipt can also be generated. In Cash Transaction Payment and Receipt can be added. Journal Voucher module help to manage the data of Debit & Credit Amounts.
ACCOUNT REPORTS
Different types of reports can be created by the user in finance management through Silicon Valley Education management System like Day Book - in that we can manage Day to Day Transactions , Journal Book - Journal Entries can be managed with the help of this module , Bank Book , Cash Book - All the Transaction related Cash can be managed , General Ledger - Transaction of Debit & Credit and Closing Amount can be managed , Trail Balance , Balance Sheet - Total of Liabilities & Assets can be manged and Profit & Loss.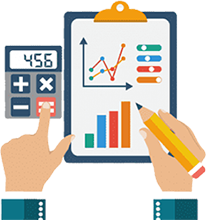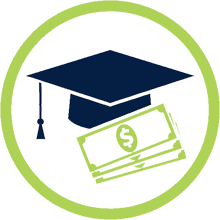 FEES
The most Important feature of Finance Management is Fees Collection. Admin can manage all the Fee related institutional activities. Silicon Valley Education Management Software helps in making collection of Fees easy and in less time . Fees Category includes General Fees , RTE , Transport Fees , Special Fees etc. Fees Book helps to maintain a list of all the fees collected according to Category. Fees Head includes Annual Fees , Transportation Fees , Exam Fees etc and Group Name as well like Direct , Indirect incomes, Liabilities etc. Fees Concession module helps some students to get a privilege to get discount on some Fees Categorizes. Late Fees Policy means to charge the penalty on those students who pays the Fees late . Class Fees Structure facilitate the user to get a privilege of classifying different fees categories , giving them options like monthly / quarterly / yearly etc. Student Fees Structure allow the users to get the list of the students who paid the fees and also to add multiple yearly fees details. Fees Collection helps to get all the details of the Fees paid by the student . Fees Refund can be done in case if any security amount is being paid apart from the Fees . Bank Reconciliation includes the details of the fees which is paid by cheque and if the cheque is bounced so the penalty amount will be credited to the next installment. Additional Fees Collection includes the collection of Extra Activities like Picnic Fees , Tour Fees etc
BENEFITS OF FINANCE MANAGEMENT
It is helpful in capital budgeting so as to decide long term requirements of the funds.
Administration can get Accounting and Financial Reports.
Complete Integrated modules with Finance management.
Create, manage and maintain different Time-tables.
Working on master data files with different rights to different users.
Get all the Accounting Features on single platform.
Customized direction with reporting of the Educational Departments.
It also provides you an opportunity to follow through on your policies and plans.
Genius Education management is designed with the tagline "Enhancing Education System". It is a user-interactive, flexible, robust, easy-to-access and diversified software platform, which can be embedded in all the generation devices.