These modules are very important for every Schools / Colleges / Universities, Genius Education management provides better user interface and unique vehicle tracking system. Admin can Add different transport vehicles with all the driver details like Name, Vehicle no, License no, Driver's phone no.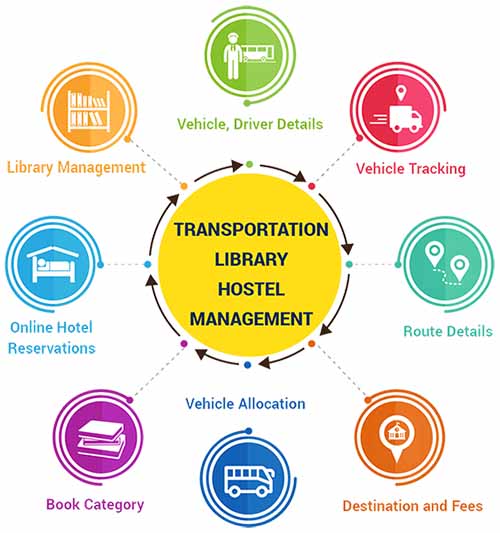 It can Assign and Manage different Routes to different Drivers with mentioned Vehicle no. This module will give detailed analyses about Vehicle tracking and Transport Allocation. The system generally uses multiple features to inform the user about the exact vehicle location at any given point of time. Different Time-tables are developed to plan the efficient routes to Pick and drop the students on time. The system can be developed according to the students size. Covering long distance gives more effective results, as we use transportation system in the real time environment
As educational institutes are increasing day by day, accommodation for students is very necessary. Thus, Hostel Management is developed for managing various activities in the hostel. Hostel management system can be used where there is complex number of students and there is a need of proper alignment of all the task and track records. The module is very user friendly and have easy to use interface
Library Management system is specially developed for the librarian of the institutes, where they can Add new books, with Title, Author and Section code. They can Update the records for the Books Issued and Books Returned through single user platform, also they can view the availability of the Books through this system. The Librarian can view the total Books issued and Books returned daily, weekly and monthly basis.
KEY FEATURES OF
Transportation / Library / Hostel
Benefits of
Transportation / Library / Hostel Management