Hire Architecture Detailing Services For Your Project
Silicon Valley Infomedia Pvt. Ltd. helps in detailing Dreams and crafting architecture.
Before the effectuation of any architectural project, an idea is required. But this is not it. We also need a set of drawings, details, and construction documents to build on the concept. The path is complex and cumbersome, from an idea to an actual structure. We help enthusiastic Architects, project companies, and contractors realize their projects efficiently. We help them in expediting the drafting phase. We provide high-quality and code-compliant Architectural detailings – interior and exterior. We have over 19 years of drafting and detailing experience and have worked on thousands of architectural projects of varying complexity. The experience, exposure, and immense talent pool give us the edge in providing quality & quantity services with a quick turnaround time.
Deliverables Of Architectural Interior Drawings And Architecture Detailing Services
We provide various documents, details, and drafts for a smooth and efficient architectural design process.
To break ground in your Architectural projects, you must have accurate and precise documents. Precise Architecture detailing ensures the smooth execution of the project and mitigates on-site conflicts and errors. One mistake can take your project from a success track to a costly and resource-hungry venture, dropping the ROI significantly. Silicon Valley Infomedia Pvt. Ltd. understands the sensitivity of precise information in Architecture Detailing and Architectural Interior Drawings. We work closely with your team and provide the best solutions to your needs. Our Architecture detailing services are affordable, precise, and quick. Deliverables of our architecture detailing services are as follows :
Floor plans and layouts
2D drafts and drawings that reveal spatial relationships, elevations, and potential furniture placement
HVAC, electrical, and mechanical system drawings and blueprints
3D architectural site plans
3D architectural renderings and models
Interior design services
3D Architectural Renderings | 3D Interior Visualizations
3D Interior Rendering Services lets you visualize your architecture detailings and architectural interior drawings in 3D.
3D architectural renderings and 3D interior visualization is the process of creating 2D images and 3D models of proposed architectural projects. 3D interior rendering services aim to provide a lifelike experience of how an interior or building will look before its construction is commenced.
Why Opt For 3D Architectural Rendering?
There are several reasons to opt for 3D architectural renderings. From efficient design to successful marketing, 3D architectural renderings have limitless applications and benefits.
Visualize Designs : Transform blueprints into realistic visuals for better project understanding.
Enhance Communication : Convey complex ideas effectively to clients, stakeholders, and builders.
Cost Savings : Identify design flaws early, reducing rework and project delays.
Marketing Advantage : Present captivating visuals to attract investors and potential buyers.
Design Flexibility : Experiment with materials, lighting, and layouts before construction.
Realistic Previews : Offer clients an accurate preview of the final project's look and feel.
Streamlined Decision-Making : Make informed design choices with explicit 3D representations.
Investor Confidence : Boost confidence in project viability and attract funding opportunities.
Time Efficiency : Expedite design approvals by presenting lifelike renderings.
Competitive Edge : Stand out in the industry by showcasing innovative design concepts.
Types Of 3D Architectural Renderings
Interior Rendering

Interior rendering is the process of creating highly realistic visualizations of the interior spaces of a building. With advanced 3D rendering techniques, interior renderings capture details like furnishings, lighting, textures, and colors. These renderings offer an accurate preview of how the interior will look once the design is implemented, aiding in design decisions, client presentations, and marketing efforts.

Exterior Rendering

Exterior rendering involves creating lifelike images of a building's exterior, showcasing its architectural design, materials, landscaping, and lighting. These renderings visually represent the building's appearance in its surroundings. Exterior renderings are valuable for marketing purposes, client approvals, and helping stakeholders envision the project's final look.

Aerial Rendering

Aerial rendering offers a unique perspective by presenting a view of a project from above, simulating how it would look when viewed from an elevated position or drone. Aerial renderings are particularly useful for presenting large-scale developments and urban planning projects and showcasing how a building interacts with its environment. They provide an overview of the entire project and its relationship with surrounding structures and landscapes.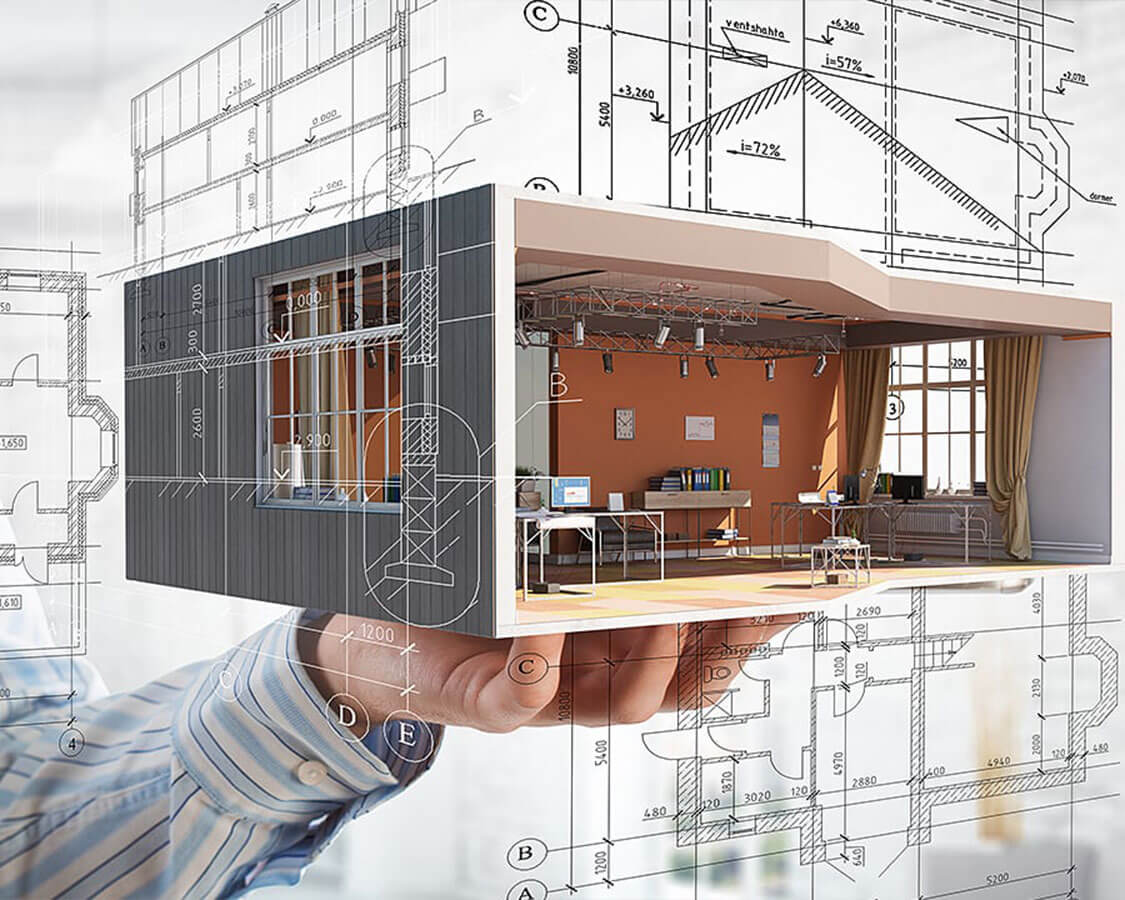 Experience The Advantage Of Professional Interior Landscaping Services
We offer 3D visualization and drafting of Interior Landscaping, Planscaping or Interiorscaping with thoughtful and purposeful plant placement.
Interior Landscaping Services involve bringing nature indoors to enhance interior spaces' aesthetic appeal. Interior landscaping transforms indoor environments into vibrant and refreshing spaces by strategically placing plants, greenery, and biophilic elements. Our services include designing layouts, 3D renderings, and walkthroughs. Interior landscaping not only adds visual beauty but also improves air quality, reduces stress, and enhances the well-being of occupants. Whether in corporate offices, hospitality venues, or residential settings, interior landscaping services are pivotal in creating harmonious and inviting indoor spaces.
Masters of 3D Rendering: Unleashing Creativity With 3DS Max & REVIT Expertise
We have expert-level expertise in 3DS Max & REVIT. We leverage our expertise to provide you with accurate 3D Architectural Renderings.
Our expertise lies in delivering exceptional 3D architectural rendering services fueled by our mastery of industry-leading software tools such as 3DS Max and REVIT. Through the synergy of this powerful software, we transform architectural concepts into lifelike visualizations that captivate the imagination. 3DS Max's advanced rendering capabilities can infuse scenes with realism, textures, and lighting effects. REVIT enhances precision in architectural modeling, ensuring accuracy in every detail. This dynamic blend of software expertise allows us to create immersive and compelling visual narratives. Whether interior, exterior, or landscapes, our proficiency in 3DS Max and REVIT empowers us to bring visions to life and enrich the architectural journey with innovation and creativity.
Frequently Asked Questions
Abbotsford
,
Abha
,
Abidjan
,
Abu Dhabi
,
Abuja
,
Accra
,
Addis Ababa
,
Adelaide
,
Africa
,
Ahmedabad
,
Ahvaz
,
Ajman
,
Al Ain
,
Al Jahra
,
Al Rayyan
,
Alabama
,
Alaska
,
Albania
,
Albany
,
Albury
,
Alexandria
,
Algeria
,
Algiers
,
Alice Springs
,
Baghdad
,
Bahamas
,
Bahia Blanca
,
Bahrain
,
Balikpapan
,
Ballarat
,
Bandar Lampung
,
Bandung
,
Bangkok
,
Bangladesh
,
Barbados
,
Bariloche
,
Barisal
,
Barrie
,
Basra
,
Batam
,
Bathurst
,
Beijing
,
Belarus
,
Belgium
,
Belize
,
Bendigo
,
Bengaluru
,
Benin
,
Benin City
,
Berlin
,
Bermuda
,
Cabo Verde
,
Cairns
,
Cairo
,
Calgary
,
California
,
Caloocan
,
Cambodia
,
Cambridge
,
Canada
,
Canberra
,
Cape Town
,
Cardiff
,
Caribbean Netherlands
,
Casablanca
,
Cayman Islands
,
Central African
,
Chad
,
Chandigarh
,
Changchun
,
Changsha
,
Changwon
,
Changzhou
,
Charleroi
,
Chengdu
,
Chennai
,
Chiang Mai
,
Chiba
,
Chile
,
Chillan
,
China
,
Daegu
,
Daejeon
,
Dakar
,
Dalian
,
Dammam
,
Dar es Salaam
,
Dargaville
,
Darwin
,
Davao
,
Delaware
,
Denmark
,
Devonport
,
Ecuador
,
Ede
,
Edinburgh
,
Edmonton
,
Egypt
,
El Alto
,
El Salvador
,
Falkland Islands
,
Faroe Islands
,
Federated States of Micronesia
,
Fiji
,
Finland
,
Florida
,
Formosa
,
Foshan
,
Gabon
,
Gaborone
,
Gambia
,
Gatineau
,
Geelong
,
George Town
,
Georgia
,
Georgia
,
Geraldton
,
Germany
,
Ghana
,
Ghana
,
Ghent
,
Gibraltar
,
Gisborne
,
Gladstone
,
Glasgow
,
Gold Coast
,
Goyang
,
Haikou
,
Haiti
,
Hakodate
,
Halifax
,
Hamad Town
,
Hamamatsu
,
Hamburg
,
Hamilton
,
Hamilton CA
,
Hangzhou
,
Harare
,
Harbin
,
Hastings
,
Iceland
,
Idaho
,
Illinois
,
Incheon
,
India
,
Indiana
,
Indonesia
,
Invercargill
,
Iowa
,
Jabalpur
,
Jaipur
,
Jamaica
,
Japan
,
Jeddah
,
Kagoshima
,
Kajang
,
Kalgoorlie
,
Kampala
,
Kanazawa
,
Kano
,
Kansas
,
Karaj
,
Karbala
,
Kawasaki
,
Kawerau
,
Kazakhstan
,
Kelowna
,
Kentucky
,
Kenya
,
Kermanshah
,
Khamis Mushait
,
Khartoum
,
Khobar
,
Kigali
,
Kikuyu
,
Kingston
,
Kingston CA
,
Kinshasa
,
Lagos
,
Laksam Upazila
,
Lanzhou
,
Laos
,
Lapu Lapu
,
Latvia
,
Launceston
,
Lausanne
,
Lebanon
,
Lesotho
,
Leuven
,
Levin
,
Liberia
,
Libreville
,
Libya
,
Luxembourg City
,
La Paz
,
La Plata
,
Macau
,
Macedonia
,
Mackay
,
Madagascar
,
Madurai
,
Maebashi
,
Maine
,
Maitland
,
Makassar
,
Malacca City
,
Malawi
,
Malaysia
,
Maldives
,
Mali
,
Malindi
,
Malta
,
Manado
,
Manama
,
Manchester
,
Mandurah
,
Manila
,
Maputo
,
Mar del Plata
,
Markham
,
Marseille
,
Marshall Islands
,
Martinique
,
Maryland
,
Mashhad
,
Massachusetts
,
Matsumoto
,
Matsuyama
,
Mauritania
,
Mauritius
,
Mayotte
,
Mbeya
,
Mecca
,
Medan
,
Medina
,
Melbourne
,
Nagasaki
,
Nagoya
,
Nairobi
,
Najaf
,
Najran
,
Nakuru
,
Namibia
,
Namur
,
Nanchang
,
Nanjing
,
Nanning
,
Nantes
,
Napier
,
Naples
,
Nara
,
Narayanganj
,
Nauru
,
Nebraska
,
Nelson
,
Nepal
,
Netherlands
,
Neuquen
,
Nevada
,
New Caledonia
,
Oakville
,
Oamaru
,
Ohio
,
Okayama
,
Oklahoma
,
Oman
,
Oregon
,
Paeroa
,
Palau
,
Palembang
,
Palestine
,
Palmerston North
,
Panama
,
Papua New Guinea
,
Paraguay
,
Paraparaumu
,
Paris
,
Pekanbaru
,
Pennsylvania
,
Perth
,
Peru
,
Petaling Jaya
,
Philippines
,
Pietermaritzburg
,
Qatar
,
Qatif
,
Qingdao
,
Qom
,
Rabat
,
Rajshahi
,
Rancagua
,
Ras al Khaimah
,
Regina
,
Reims
,
Rennes
,
Resistencia
,
Reunion
,
Rhode Island
,
Riffa
,
Sagamihara
,
Saguenay
,
Saint Lucia
,
Sakai
,
Salmiya
,
Salta
,
Samoa
,
San Juan
,
San Lorenzo
,
San Luis
,
San Marino
,
San Miguel de Tucuman
,
San Salvador de Jujuy
,
Sandakan
,
Santa Cruz de la Sierra
,
Santa Fe
,
Santa Rosa
,
Santiago
,
Santiago del Estero
,
Sanya
,
Sapporo
,
Saskatoon
,
Saudi Arabia
,
Seeb
,
Semarang
,
Sendai
,
Senegal
,
Seoul
,
Serbia
,
Seremban
,
Seychelles
,
Shah Alam
,
Shanghai
,
Sharjah
,
Shenyang
,
Tabriz
,
Tabuk
,
Taiwan
,
Taiyuan
,
Tajikistan
,
Takamatsu
,
Talca
,
Tamworth
,
Tandil
,
Tanzania
,
Tarija
,
Tasikmalaya
,
Tauranga
,
Tehran
,
Temuco
,
Tennessee
,
Texas
,
Thailand
,
Thames
,
Thiruvananthapuram
,
Thunder Bay
,
Tianjin
,
Tijuana
,
Timor Leste
,
Togo
,
UAE
,
Uganda
,
UK
,
Ukraine
,
Ulsan
,
United Arab Emirates
,
United Kingdom
,
United States of America
,
United States Virgin Islands
,
Valparaiso
,
Vancouver
,
Vanuatu
,
Venezuela
,
Venice
,
Vermont
,
Wagga Wagga
,
Waitakere City
,
Wakayama
,
Warrnambool
,
Washington
,
Wellington
,
Wenzhou
,
West Virginia
,
Western Sahara
,
Westport
,
Xiamen
,
Yantai
,
Yaounde
,
Yellowknife
,
Yemen
,
Zambia
,
Zhengzhou
,
Zhuhai