Beat the competition by utilizing BIM for Project Management Consultancy (PMC)
REVIT BIM Services unlocks the hassle-free building experience. Feel the streamlined and seamless building designing experience with BIM modeling services.
With BIM Modeling Services, stay ahead of your competition, realize construction designs seamlessly, mitigate on-site safety risks, and adopt a process that delivers better quality buildings at lower costs and reduced project durations. BIM Construction Services secure information digitally, ensuring zero data loss during distinct construction and designing phases.
We are a leading BIM Provider addressing your project's varied coordination and collaboration challenges
Unlock the power of interoperability and achieve efficient workflow with BIM Engineering Services.
Building Information Modeling is a method of creating a precise 3D coordination model of a building. BIM Building Information Management is a tool to manage the building construction and designing process through its phases. BIM design allows for better analysis and coordination of the project than the conventional manual processes. It facilitates many functions for plotting the lifecycle of the building. BIM for facility managers plays a pivotal role in facility operations and management. BIM for facility managers is an efficient tool to manage the building operations post-construction process.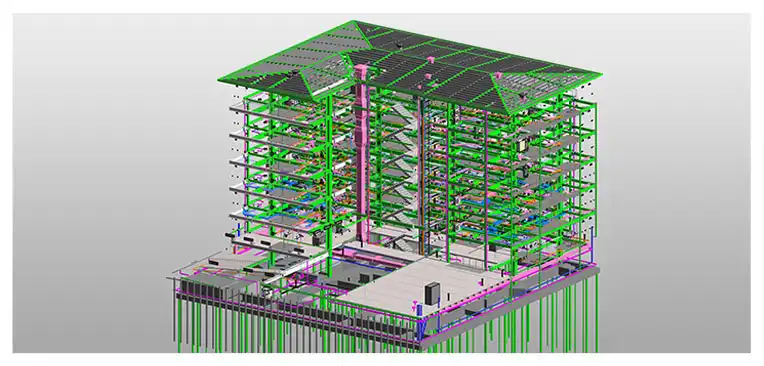 Why should you consider BIM Outsourcing Services?
As a leading BIM Services Provider, we have seen many projects flourish to new heights of construction epitome by employing Building Information Modeling Services.
Silicon Valley has been a pre-eminent BIM Outsourcing Company offering BIM solutions for over a decade. We learned from this experience that BIM offers a seamless project-building experience and total control over the project.
Did You Know?
BIM can utilize cloud technology for data interoperability.
BIM lets you create the digital twin of your building.
BIM allows for automation, reducing errors and costs.
With BIM, you can do Building energy modeling – for greener buildings.
Why switch from conventional 2D CAD methods to neoteric BIM?
The applications and advantages of BIM CAD Services are far superior to conventional 2D methods. A 3D model is worth thousands of 2D drawings.
BIM For Contractors
REVIT BIM Modeling Services helps contractors in post and pre-construction phases. Facilitates quantity takeoff, material cost estimation, and scheduling of the project. BIM Building Services makes sure accurate project bidding and assists in the detection of conflicts of interest.
BIM For Architects And Engineers
BIM Outsourcing Services help architects design the perfect building with REVIT drafting services. BIM is an epochal transition in design practice, giving total control to the architects over the design. BIM also facilitates landscape architects through Land Scape Design REVIT.
Reduce Project Costs And Increases ROI
With the ability to detect geometrical clashes in the pre-construction phase, BIM avoids unwanted redundant construction, keeps check on material inventory, and streamlines the sequencing of the construction project.

Innovative Way Of Management
BIM facilitates operations and management of the construction after its completion. With its data-rich model, management and maintenance were never so easy.

Scheduling And Material Acquisition
BIM help streamline the sequencing of the construction, reducing unwanted delays. It also helps in material procurement and project cost estimation.

BIM Interoperability
BIM is interoperable, providing communication fluidity across the different disciplines and industries, regardless of the software used by distinct vendors.
BIM For Project Management
BIM design services help project managers improve communication, coordination, and collaboration of the overall project. BIM outsourcing also ensures full cooperation between different stakeholders.
Total Collaboration
With complete collaboration BIM augments information-rich and well-coordinated 3D models, aiding design validation and seamless communication enabling quick resolutions of design errors.
BIM For Fabricators
REVIT Design Services help fabricators design their components with high accuracy. MEP systems benefit the most from BIM. The designing and holistic research and development become so much easier with BIM.
Software Expertise






Leading BIM Engineering Company, guaranteeing you the ultimate building design experience
Our impeccable BIM projects in the past are proof of our highest level of BIM competency.
With a plethora of experience from previous projects, we provide BIM modeling outsourcing globally.
Silicon Valley hosts a mixed team of dedicated BIM engineers, BIM modelers, draftspersons, and experienced engineers. Every project has distinct needs to satisfy. Likewise, every client requires varied solutions for their project. We cater to your Building Information Modelling Services requirement with curated solutions. Reach us today with your requirements, and let a competent BIM Services Company help you attain the new heights of building experience.
Frequently Asked Questions
Abbotsford
,
Abha
,
Abidjan
,
Abu Dhabi
,
Abuja
,
Accra
,
Addis Ababa
,
Adelaide
,
Africa
,
Ahmedabad
,
Ahvaz
,
Ajman
,
Al Ain
,
Al Jahra
,
Al Rayyan
,
Alabama
,
Alaska
,
Albania
,
Albany
,
Albury
,
Alexandria
,
Algeria
,
Algiers
,
Alice Springs
,
Baghdad
,
Bahamas
,
Bahia Blanca
,
Bahrain
,
Balikpapan
,
Ballarat
,
Bandar Lampung
,
Bandung
,
Bangkok
,
Bangladesh
,
Barbados
,
Bariloche
,
Barisal
,
Barrie
,
Basra
,
Batam
,
Bathurst
,
Beijing
,
Belarus
,
Belgium
,
Belize
,
Bendigo
,
Bengaluru
,
Benin
,
Benin City
,
Berlin
,
Bermuda
,
Cabo Verde
,
Cairns
,
Cairo
,
Calgary
,
California
,
Caloocan
,
Cambodia
,
Cambridge
,
Canada
,
Canberra
,
Cape Town
,
Cardiff
,
Caribbean Netherlands
,
Casablanca
,
Cayman Islands
,
Central African
,
Chad
,
Chandigarh
,
Changchun
,
Changsha
,
Changwon
,
Changzhou
,
Charleroi
,
Chengdu
,
Chennai
,
Chiang Mai
,
Chiba
,
Chile
,
Chillan
,
China
,
Daegu
,
Daejeon
,
Dakar
,
Dalian
,
Dammam
,
Dar es Salaam
,
Dargaville
,
Darwin
,
Davao
,
Delaware
,
Denmark
,
Devonport
,
Ecuador
,
Ede
,
Edinburgh
,
Edmonton
,
Egypt
,
El Alto
,
El Salvador
,
Falkland Islands
,
Faroe Islands
,
Federated States of Micronesia
,
Fiji
,
Finland
,
Florida
,
Formosa
,
Foshan
,
Gabon
,
Gaborone
,
Gambia
,
Gatineau
,
Geelong
,
George Town
,
Georgia
,
Georgia
,
Geraldton
,
Germany
,
Ghana
,
Ghana
,
Ghent
,
Gibraltar
,
Gisborne
,
Gladstone
,
Glasgow
,
Gold Coast
,
Goyang
,
Haikou
,
Haiti
,
Hakodate
,
Halifax
,
Hamad Town
,
Hamamatsu
,
Hamburg
,
Hamilton
,
Hamilton CA
,
Hangzhou
,
Harare
,
Harbin
,
Hastings
,
Iceland
,
Idaho
,
Illinois
,
Incheon
,
India
,
Indiana
,
Indonesia
,
Invercargill
,
Iowa
,
Jabalpur
,
Jaipur
,
Jamaica
,
Japan
,
Jeddah
,
Kagoshima
,
Kajang
,
Kalgoorlie
,
Kampala
,
Kanazawa
,
Kano
,
Kansas
,
Karaj
,
Karbala
,
Kawasaki
,
Kawerau
,
Kazakhstan
,
Kelowna
,
Kentucky
,
Kenya
,
Kermanshah
,
Khamis Mushait
,
Khartoum
,
Khobar
,
Kigali
,
Kikuyu
,
Kingston
,
Kingston CA
,
Kinshasa
,
Lagos
,
Laksam Upazila
,
Lanzhou
,
Laos
,
Lapu Lapu
,
Latvia
,
Launceston
,
Lausanne
,
Lebanon
,
Lesotho
,
Leuven
,
Levin
,
Liberia
,
Libreville
,
Libya
,
Luxembourg City
,
La Paz
,
La Plata
,
Macau
,
Macedonia
,
Mackay
,
Madagascar
,
Madurai
,
Maebashi
,
Maine
,
Maitland
,
Makassar
,
Malacca City
,
Malawi
,
Malaysia
,
Maldives
,
Mali
,
Malindi
,
Malta
,
Manado
,
Manama
,
Manchester
,
Mandurah
,
Manila
,
Maputo
,
Mar del Plata
,
Markham
,
Marseille
,
Marshall Islands
,
Martinique
,
Maryland
,
Mashhad
,
Massachusetts
,
Matsumoto
,
Matsuyama
,
Mauritania
,
Mauritius
,
Mayotte
,
Mbeya
,
Mecca
,
Medan
,
Medina
,
Melbourne
,
nab australia
,
Nagasaki
,
Nagoya
,
Nairobi
,
Najaf
,
Najran
,
Nakuru
,
Namibia
,
Namur
,
Nanchang
,
Nanjing
,
Nanning
,
Nantes
,
Napier
,
Naples
,
Nara
,
Narayanganj
,
Nauru
,
Nebraska
,
Nelson
,
Nepal
,
Netherlands
,
Neuquen
,
Nevada
,
New Caledonia
,
Oakville
,
Oamaru
,
Ohio
,
Okayama
,
Oklahoma
,
Oman
,
Oregon
,
Paeroa
,
Palau
,
Palembang
,
Palestine
,
Palmerston North
,
Panama
,
Papua New Guinea
,
Paraguay
,
Paraparaumu
,
Paris
,
Pekanbaru
,
Pennsylvania
,
Perth
,
Peru
,
Petaling Jaya
,
Philippines
,
Pietermaritzburg
,
Qatar
,
Qatif
,
Qingdao
,
Qom
,
Rabat
,
Rajshahi
,
Rancagua
,
Ras al Khaimah
,
Regina
,
Reims
,
Rennes
,
Resistencia
,
Reunion
,
Rhode Island
,
Riffa
,
Sagamihara
,
Saguenay
,
Saint Lucia
,
Sakai
,
Salmiya
,
Salta
,
Samoa
,
San Juan
,
San Lorenzo
,
San Luis
,
San Marino
,
San Miguel de Tucuman
,
San Salvador de Jujuy
,
Sandakan
,
Santa Cruz de la Sierra
,
Santa Fe
,
Santa Rosa
,
Santiago
,
Santiago del Estero
,
Sanya
,
Sapporo
,
Saskatoon
,
Saudi Arabia
,
Seeb
,
Semarang
,
Sendai
,
Senegal
,
Seoul
,
Serbia
,
Seremban
,
Seychelles
,
Shah Alam
,
Shanghai
,
Sharjah
,
Shenyang
,
Tabriz
,
Tabuk
,
Taiwan
,
Taiyuan
,
Tajikistan
,
Takamatsu
,
Talca
,
Tamworth
,
Tandil
,
Tanzania
,
Tarija
,
Tasikmalaya
,
Tauranga
,
Tehran
,
Temuco
,
Tennessee
,
Texas
,
Thailand
,
Thames
,
Thiruvananthapuram
,
Thunder Bay
,
Tianjin
,
Tijuana
,
Timor Leste
,
Togo
,
UAE
,
Uganda
,
UK
,
Ukraine
,
Ulsan
,
United Arab Emirates
,
United Kingdom
,
United States of America
,
United States Virgin Islands
,
Valparaiso
,
Vancouver
,
Vanuatu
,
Venezuela
,
Venice
,
Vermont
,
Wagga Wagga
,
Waitakere City
,
Wakayama
,
Warrnambool
,
Washington
,
Wellington
,
Wenzhou
,
West Virginia
,
Western Sahara
,
Westport
,
Xiamen
,
Yantai
,
Yaounde
,
Yellowknife
,
Yemen
,
Zambia
,
Zhengzhou
,
Zhuhai
,