Level Of Development BIM | Level Of Development | BIM LOD 300 | BIM LOD 400 | BIM LOD 500
Level Of Development BIM | LOD BIM | REVIT Level Of Development
The key idea behind the level of development (LOD) is that the development level determines BIM Services elements' content and dependability at various phases. If appropriately utilized, the LOD levels will aid in your comprehension of the applicability and constraints of the modeled parts. As a fundamental presumption, the LOD specifications concede distinct phases of the BIM lifecycle and help specify the needs at every stage within the project.
The LOD definition aids designers in defining the intrinsic qualities of a model's components at various phases of development. The purpose of LOD specs was to standardize the use of the LOD framework and make it a productive and cooperative communication tool.
The rich difference between LOD- Level of Development and LOD- Level of Detail BIM.
LOD had typically understood as the Level of Detail rather than the Level of Development. Although distinct, the Level of Development and Level of Details need to be clarified. There are significant variations between the two:
The level of detail BIM Service Providers describes how many points and facts are in each modeled element, i.e., the amount of detail within the model element determines its level of detail, whereas the level of development considers the often and thorough usage of components' geometrical specifications and related information; this determines how much the project team can rely on the data while utilizing the Model. In essence, the Level of Development is a trustworthy output, whereas the Level of Detail is an input to the element.

The LOD strategy is advantageous for several vital reasons We're constantly working on our methods and techniques to keep our clients on the front edge of their projects.
With LOD, it may be easier for everyone to be on the same page, leading to discrepancies that strain a project's chances of success. LOD standards aid communication and cooperation, facilitating quicker and more effective resource allocation at all design and construction stages. The advantages of using the level of development standards in the design process include the following:
Improved teamwork and communication among various teams
Designers give recommendations and data for employees working downstream to guarantee no errors in execution or maintenance by using standardized specifications and comprehensive information about all the pieces. LOD makes it simpler to specify a need for contractors responsible for BIM execution. At the same time, design managers can effectively communicate to the teams the requirements at various stages of the design process.
The articulation of the scope for a BIM deliverable
LOD enables BIM models to become more precise. All teams, including owners, clearly define the amount of information they require from a BIM model and understand the parameters of the ultimate BIM delivery.
LOD advantageous for AEC projects
It might be challenging for designers to comprehend the project requirements in an era where everything goes digital, and every essential project has a 3D model. Handling a BIM model is challenging. LOD establishes a uniform definition of completion and eliminates the possibility of project disagreements. LOD uses cutting-edge methods and technology to improve design clarity.
Different BIM LOD Levels
LOD Relationship with Design Phases and Building Designs
The American Institute of Architects (AIA) first used LOD when it established six distinct levels of development to specify the number of details in a BIM model. The LOD Framework provides an industry-developed standard to characterize the stage of development of various systems inside a BIM, addressing several difficulties encountered by AEC professionals. By making it easier to define BIM deliverables and milestones in detail, this standard promotes consistency in communication and execution. AEC practitioners may use the Level of Development (LOD) Specification as a guide to identify and communicate the content and dependability of Building Information Modeling Services at various phases of the design and construction process.
BIM LOD 100 - Conceptual Design or Pre-Design

The model pieces have symbols with estimated information attached, using 2D characters and masses. The 3D Model of the Structural 3D Modeling herein is to display the information on a fundamental level.

BIM LOD 200 - Schematic Design

The components are only generic placeholders for the actual features like approximative amount, size, form, placement, and equipment. It may be recognized and designated as areas for coordinating the disciplines.

BIM LOD 300 - Detailed Design

The level supports design intent for procedures like costing and bidding. In addition, it Specifies an element's relationship to and connects with other components and accurately describes an element's information. These are for producing BIM Shop Drawing and construction paperwork.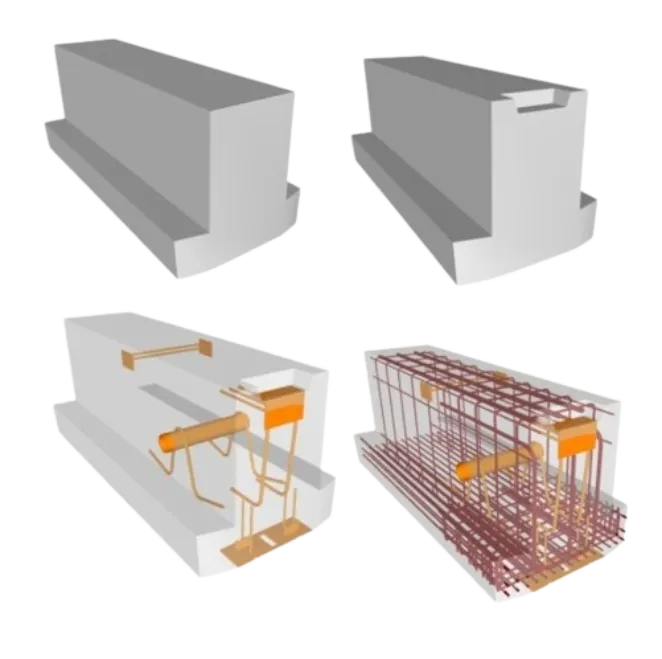 BIM LOD 350 - Construction Documentation
The LOD 350 level covers adequate cross-trade coordination, links, and interdisciplinary interfaces. Finally, with ideas and documented resolutions, it offers ideal facts and characteristics that illustrate how building elements interact among diverse systems of LOD.

BIM LOD 400 - Fabrication and Constrcution
It supports manufacturing, installation, and assembly. In addition, the contractor divides the necessary construction work and assigns it to subcontractors. Model elements are as distinct as assemblies, including essential fabrication, community, detailed information, and exact measurements for quantity, size, shape, placement, and orientation.

BIM LOD 500 - As-Built
will have the necessary geometry and data to facilitate operations and maintenance. As-built requires field-verified geometry and data for maintenance and operations. In addition to being exact and accurate in size, shape, position, amount, and orientation, modeled elements also include non-geometric information.
The must-known causalities to adopt Level of Development in your approaching BIM Projects.
The BIM service providers at Silicon Valley Construct ascertained configurations and vitality for your current and upcoming structural projects and aim to direct you on various dimensions and proportions of BIM Services. The unit efficiently corresponds to all integral regions and elements of the construction project and decodes them effectively. As a result, it seeks to produce projects at nominal rates and more occasional reworks after delivery. The company caters to guides in the segment induction approach, fetching accurateness and accomplishment to the team of devoted workmen.
Inspect construction agendas quickly.
Compute precise portions of the cost of the project.
Improve project handover and build better lines of communication with fabricators, subcontractors, etc.
Increase efficiency by integrating quantity takeoff with other cost estimating and scheduling programmes.
Would you like to work with us?
Are you curious to learn more about BIM?
Silicon Valley's 3D Modeling Service produces a 3D model of your project using the REVIT Level of Development (LOD) industry guidelines. We also provide animation services for virtual construction sequencing and simulation. In addition, our specialists may improve BIM models' accuracy, precision, and value throughout the project's lifespan. Contact our specialists.
Frequently Asked Questions
Abbotsford
,
Abha
,
Abidjan
,
Abu Dhabi
,
Abuja
,
Accra
,
Addis Ababa
,
Adelaide
,
Africa
,
Ahmedabad
,
Ahvaz
,
Ajman
,
Al Ain
,
Al Jahra
,
Al Rayyan
,
Alabama
,
Alaska
,
Albania
,
Albany
,
Albury
,
Alexandria
,
Algeria
,
Algiers
,
Alice Springs
,
Baghdad
,
Bahamas
,
Bahia Blanca
,
Bahrain
,
Balikpapan
,
Ballarat
,
Bandar Lampung
,
Bandung
,
Bangkok
,
Bangladesh
,
Barbados
,
Bariloche
,
Barisal
,
Barrie
,
Basra
,
Batam
,
Bathurst
,
Beijing
,
Belarus
,
Belgium
,
Belize
,
Bendigo
,
Bengaluru
,
Benin
,
Benin City
,
Berlin
,
Bermuda
,
Cabo Verde
,
Cairns
,
Cairo
,
Calgary
,
California
,
Caloocan
,
Cambodia
,
Cambridge
,
Canada
,
Canberra
,
Cape Town
,
Cardiff
,
Caribbean Netherlands
,
Casablanca
,
Cayman Islands
,
Central African
,
Chad
,
Chandigarh
,
Changchun
,
Changsha
,
Changwon
,
Changzhou
,
Charleroi
,
Chengdu
,
Chennai
,
Chiang Mai
,
Chiba
,
Chile
,
Chillan
,
China
,
Daegu
,
Daejeon
,
Dakar
,
Dalian
,
Dammam
,
Dar es Salaam
,
Dargaville
,
Darwin
,
Davao
,
Delaware
,
Denmark
,
Devonport
,
Ecuador
,
Ede
,
Edinburgh
,
Edmonton
,
Egypt
,
El Alto
,
El Salvador
,
Falkland Islands
,
Faroe Islands
,
Federated States of Micronesia
,
Fiji
,
Finland
,
Florida
,
Formosa
,
Foshan
,
Gabon
,
Gaborone
,
Gambia
,
Gatineau
,
Geelong
,
George Town
,
Georgia
,
Georgia
,
Geraldton
,
Germany
,
Ghana
,
Ghana
,
Ghent
,
Gibraltar
,
Gisborne
,
Gladstone
,
Glasgow
,
Gold Coast
,
Goyang
,
Haikou
,
Haiti
,
Hakodate
,
Halifax
,
Hamad Town
,
Hamamatsu
,
Hamburg
,
Hamilton
,
Hamilton CA
,
Hangzhou
,
Harare
,
Harbin
,
Hastings
,
Iceland
,
Idaho
,
Illinois
,
Incheon
,
India
,
Indiana
,
Indonesia
,
Invercargill
,
Iowa
,
Jabalpur
,
Jaipur
,
Jamaica
,
Japan
,
Jeddah
,
Kagoshima
,
Kajang
,
Kalgoorlie
,
Kampala
,
Kanazawa
,
Kano
,
Kansas
,
Karaj
,
Karbala
,
Kawasaki
,
Kawerau
,
Kazakhstan
,
Kelowna
,
Kentucky
,
Kenya
,
Kermanshah
,
Khamis Mushait
,
Khartoum
,
Khobar
,
Kigali
,
Kikuyu
,
Kingston
,
Kingston CA
,
Kinshasa
,
Lagos
,
Laksam Upazila
,
Lanzhou
,
Laos
,
Lapu Lapu
,
Latvia
,
Launceston
,
Lausanne
,
Lebanon
,
Lesotho
,
Leuven
,
Levin
,
Liberia
,
Libreville
,
Libya
,
Luxembourg City
,
La Paz
,
La Plata
,
Macau
,
Macedonia
,
Mackay
,
Madagascar
,
Madurai
,
Maebashi
,
Maine
,
Maitland
,
Makassar
,
Malacca City
,
Malawi
,
Malaysia
,
Maldives
,
Mali
,
Malindi
,
Malta
,
Manado
,
Manama
,
Manchester
,
Mandurah
,
Manila
,
Maputo
,
Mar del Plata
,
Markham
,
Marseille
,
Marshall Islands
,
Martinique
,
Maryland
,
Mashhad
,
Massachusetts
,
Matsumoto
,
Matsuyama
,
Mauritania
,
Mauritius
,
Mayotte
,
Mbeya
,
Mecca
,
Medan
,
Medina
,
Melbourne
,
Nagasaki
,
Nagoya
,
Nairobi
,
Najaf
,
Najran
,
Nakuru
,
Namibia
,
Namur
,
Nanchang
,
Nanjing
,
Nanning
,
Nantes
,
Napier
,
Naples
,
Nara
,
Narayanganj
,
Nauru
,
Nebraska
,
Nelson
,
Nepal
,
Netherlands
,
Neuquen
,
Nevada
,
New Caledonia
,
Oakville
,
Oamaru
,
Ohio
,
Okayama
,
Oklahoma
,
Oman
,
Oregon
,
Paeroa
,
Palau
,
Palembang
,
Palestine
,
Palmerston North
,
Panama
,
Papua New Guinea
,
Paraguay
,
Paraparaumu
,
Paris
,
Pekanbaru
,
Pennsylvania
,
Perth
,
Peru
,
Petaling Jaya
,
Philippines
,
Pietermaritzburg
,
Qatar
,
Qatif
,
Qingdao
,
Qom
,
Rabat
,
Rajshahi
,
Rancagua
,
Ras al Khaimah
,
Regina
,
Reims
,
Rennes
,
Resistencia
,
Reunion
,
Rhode Island
,
Riffa
,
Sagamihara
,
Saguenay
,
Saint Lucia
,
Sakai
,
Salmiya
,
Salta
,
Samoa
,
San Juan
,
San Lorenzo
,
San Luis
,
San Marino
,
San Miguel de Tucuman
,
San Salvador de Jujuy
,
Sandakan
,
Santa Cruz de la Sierra
,
Santa Fe
,
Santa Rosa
,
Santiago
,
Santiago del Estero
,
Sanya
,
Sapporo
,
Saskatoon
,
Saudi Arabia
,
Seeb
,
Semarang
,
Sendai
,
Senegal
,
Seoul
,
Serbia
,
Seremban
,
Seychelles
,
Shah Alam
,
Shanghai
,
Sharjah
,
Shenyang
,
Tabriz
,
Tabuk
,
Taiwan
,
Taiyuan
,
Tajikistan
,
Takamatsu
,
Talca
,
Tamworth
,
Tandil
,
Tanzania
,
Tarija
,
Tasikmalaya
,
Tauranga
,
Tehran
,
Temuco
,
Tennessee
,
Texas
,
Thailand
,
Thames
,
Thiruvananthapuram
,
Thunder Bay
,
Tianjin
,
Tijuana
,
Timor Leste
,
Togo
,
UAE
,
Uganda
,
UK
,
Ukraine
,
Ulsan
,
United Arab Emirates
,
United Kingdom
,
United States of America
,
United States Virgin Islands
,
Valparaiso
,
Vancouver
,
Vanuatu
,
Venezuela
,
Venice
,
Vermont
,
Wagga Wagga
,
Waitakere City
,
Wakayama
,
Warrnambool
,
Washington
,
Wellington
,
Wenzhou
,
West Virginia
,
Western Sahara
,
Westport
,
Xiamen
,
Yantai
,
Yaounde
,
Yellowknife
,
Yemen
,
Zambia
,
Zhengzhou
,
Zhuhai
,