We have a solution for what you are looking for Multi-Disciplinary Structural Engineering Services
The need for structural engineers in engineering and construction organizations is increasing since structural engineering is one of the crucial parts of construction. Silicon Valley offers a wide range of services for this competitive market, where we outsource structural engineering to some of the finest practices for other consultants, contractors, subcontractors, and builders. Exploration, organization, design, manufacture, inspection, scanning, recovery, and destruction of indefinitely enduring and temporary structures are all included in structural engineering. Our Structural Design And Drafting Services have clients in numerous developed nations throughout the globe, defining our service scope in terms of a variety of competence within the subject of Structural Engineering. We provide precise, time-bound, and detailed services following the client's established requirements.
Outsourcing Services for Structural Engineering
Structural engineering is essential to civil projects that make buildings resistant.
From the initial stages of planning to operation, we complete all construction projects in capacities ranging from lead consultant to provider of specialized services. Our primary structural services include construction inspection, 3D visualization, building information modeling (BIM), and structural steel detailing services. We are expanding beyond the sub-continent and have a significant position for ourselves on the world stage.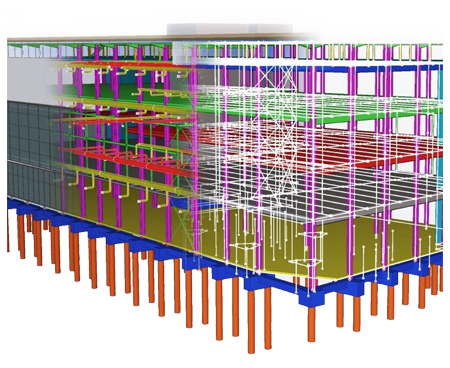 We provide unique solutions and produce top-notch designs. Services for Civil and Structural Engineering
Our adaptable civil and structural engineering consulting services can help save expensive rework.

For towering structures, we redesign systems to make them more adaptable to changing demands.
We abide by our client's time and completely comprehend the requirements of our clients and the complexity of their projects. As a result, you can expect the same quality and attention to detail from intricate industrial buildings to Residential Engineering and Structural Engineering Firm. We provide an exceptional and individualized approach to engineering solutions for each client. We are a reliable, professional partner for project engineering and technical leadership, delivering successful outcomes and long-lasting advantages from the initial phone conversation through technique and construction. Our success is primarily due to our ability to be flexible and efficient and provide work that constantly exceeds our client's expectations.
We develop a Building Information Model (BIM) with AutoDesk Revit, which makes it simple to collaborate with our clients and help solve cases before construction starts.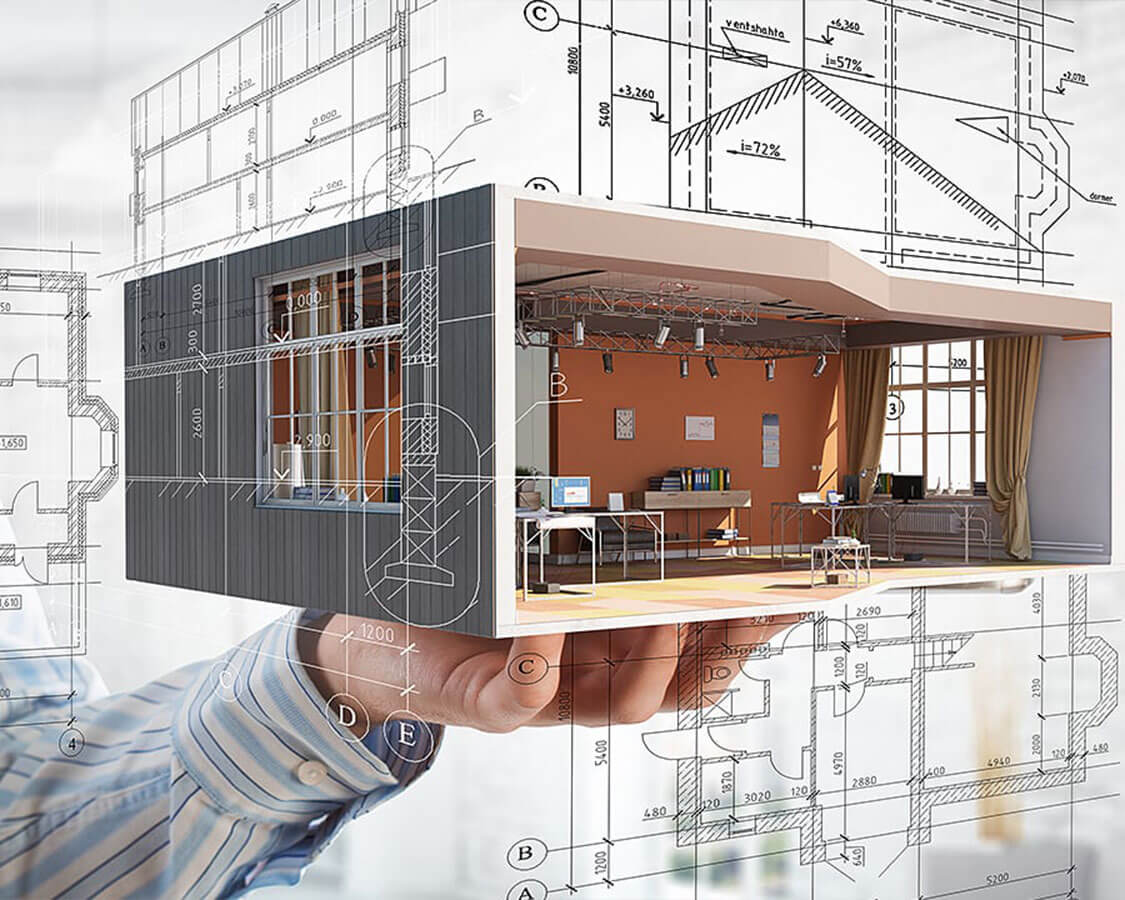 Are you looking for answers to your Strcutural issues?
Consult the professionals at Silicon Valley.
Our knowledge enables architects to achieve their aesthetic ideas and customers to achieve their financial and operational objectives. We have a long history of innovation and a reputation for fusing creative problem-solving with pragmatic approaches. As a result, the structures we design are long-lasting, perform effectively, and benefit both people and the environment.
Enhancing Creation
Silicon Valley provides a competent group of structural engineers with the ability to design and implement complicated building structures, reuse existing systems in adaptable ways, and complete construction projects quickly.
Adding Value
In addition to creating safe, sustainable, and economically advantageous buildings, we bring value to our projects by paying close attention to our client objectives and the demands of building occupants. We focus on efficiency and economy while planning for a project's many uses across its life cycle from the early design phases. To optimize property value, we aim to provide adaptable solutions that may tailor to future requirements.
Reducing Construction Waste
We constantly look for ways to reuse current materials or incorporate recycled and locally obtained materials into structures during the design phase. Carbon and energy assessment techniques determine the embodied carbon for each structural choice. We also advise on lowering construction waste through material selection and building techniques.

Technical Excellence
We provide the finest, most robust, and most efficient structures for any building, anywhere in the world, with the help of world-class engineering talents, technical support, and an in-depth understanding of current design requirements. Our skilled and knowledgeable engineers continually research new ways to design and create to utilize cutting-edge materials and building techniques while employing the most effective design tools available.

Time and money savvy
We have spearheaded engineering advancements and creative solutions to simplify building construction, cut expenses, and lower commercial risks. Today, the bulk of our high-rise projects employ technology. We also provided the most significant amount of flexibility for room arrangements inside the hospital by using precast concrete panels on the periphery to transfer the weight to the foundations.

Bearable Buildings
The capacity to provide tenants with appealing premises and the flexibility to extend a building's useful life will make the sustainability credentials of buildings increasingly vital to our commercial clients to maximize return on investment. Our comprehensive approach considers the whole building life cycle, from the initial design phases through construction and uses to destruction.
Software Expertise






Nationwide design, construction, and software solutions
available for infrastructure and buildings
Request for our Consultation
Start now by contacting one of our qualified engineering experts. Learn how our civil and structural designs are of the highest caliber and are appropriate for your project.
Frequently Asked Questions
Abbotsford
,
Abha
,
Abidjan
,
Abu Dhabi
,
Abuja
,
Accra
,
Addis Ababa
,
Adelaide
,
Africa
,
Ahmedabad
,
Ahvaz
,
Ajman
,
Al Ain
,
Al Jahra
,
Al Rayyan
,
Alabama
,
Alaska
,
Albania
,
Albany
,
Albury
,
Alexandria
,
Algeria
,
Algiers
,
Alice Springs
,
Baghdad
,
Bahamas
,
Bahia Blanca
,
Bahrain
,
Balikpapan
,
Ballarat
,
Bandar Lampung
,
Bandung
,
Bangkok
,
Bangladesh
,
Barbados
,
Bariloche
,
Barisal
,
Barrie
,
Basra
,
Batam
,
Bathurst
,
Beijing
,
Belarus
,
Belgium
,
Belize
,
Bendigo
,
Bengaluru
,
Benin
,
Benin City
,
Berlin
,
Bermuda
,
Cabo Verde
,
Cairns
,
Cairo
,
Calgary
,
California
,
Caloocan
,
Cambodia
,
Cambridge
,
Canada
,
Canberra
,
Cape Town
,
Cardiff
,
Caribbean Netherlands
,
Casablanca
,
Cayman Islands
,
Central African
,
Chad
,
Chandigarh
,
Changchun
,
Changsha
,
Changwon
,
Changzhou
,
Charleroi
,
Chengdu
,
Chennai
,
Chiang Mai
,
Chiba
,
Chile
,
Chillan
,
China
,
Daegu
,
Daejeon
,
Dakar
,
Dalian
,
Dammam
,
Dar es Salaam
,
Dargaville
,
Darwin
,
Davao
,
Delaware
,
Denmark
,
Devonport
,
Ecuador
,
Ede
,
Edinburgh
,
Edmonton
,
Egypt
,
El Alto
,
El Salvador
,
Falkland Islands
,
Faroe Islands
,
Federated States of Micronesia
,
Fiji
,
Finland
,
Florida
,
Formosa
,
Foshan
,
Gabon
,
Gaborone
,
Gambia
,
Gatineau
,
Geelong
,
George Town
,
Georgia
,
Georgia
,
Geraldton
,
Germany
,
Ghana
,
Ghana
,
Ghent
,
Gibraltar
,
Gisborne
,
Gladstone
,
Glasgow
,
Gold Coast
,
Goyang
,
Haikou
,
Haiti
,
Hakodate
,
Halifax
,
Hamad Town
,
Hamamatsu
,
Hamburg
,
Hamilton
,
Hamilton CA
,
Hangzhou
,
Harare
,
Harbin
,
Hastings
,
Iceland
,
Idaho
,
Illinois
,
Incheon
,
India
,
Indiana
,
Indonesia
,
Invercargill
,
Iowa
,
Jabalpur
,
Jaipur
,
Jamaica
,
Japan
,
Jeddah
,
Kagoshima
,
Kajang
,
Kalgoorlie
,
Kampala
,
Kanazawa
,
Kano
,
Kansas
,
Karaj
,
Karbala
,
Kawasaki
,
Kawerau
,
Kazakhstan
,
Kelowna
,
Kentucky
,
Kenya
,
Kermanshah
,
Khamis Mushait
,
Khartoum
,
Khobar
,
Kigali
,
Kikuyu
,
Kingston
,
Kingston CA
,
Kinshasa
,
Lagos
,
Laksam Upazila
,
Lanzhou
,
Laos
,
Lapu Lapu
,
Latvia
,
Launceston
,
Lausanne
,
Lebanon
,
Lesotho
,
Leuven
,
Levin
,
Liberia
,
Libreville
,
Libya
,
Luxembourg City
,
La Paz
,
La Plata
,
Macau
,
Macedonia
,
Mackay
,
Madagascar
,
Madurai
,
Maebashi
,
Maine
,
Maitland
,
Makassar
,
Malacca City
,
Malawi
,
Malaysia
,
Maldives
,
Mali
,
Malindi
,
Malta
,
Manado
,
Manama
,
Manchester
,
Mandurah
,
Manila
,
Maputo
,
Mar del Plata
,
Markham
,
Marseille
,
Marshall Islands
,
Martinique
,
Maryland
,
Mashhad
,
Massachusetts
,
Matsumoto
,
Matsuyama
,
Mauritania
,
Mauritius
,
Mayotte
,
Mbeya
,
Mecca
,
Medan
,
Medina
,
Melbourne
,
Nagasaki
,
Nagoya
,
Nairobi
,
Najaf
,
Najran
,
Nakuru
,
Namibia
,
Namur
,
Nanchang
,
Nanjing
,
Nanning
,
Nantes
,
Napier
,
Naples
,
Nara
,
Narayanganj
,
Nauru
,
Nebraska
,
Nelson
,
Nepal
,
Netherlands
,
Neuquen
,
Nevada
,
New Caledonia
,
Oakville
,
Oamaru
,
Ohio
,
Okayama
,
Oklahoma
,
Oman
,
Oregon
,
Paeroa
,
Palau
,
Palembang
,
Palestine
,
Palmerston North
,
Panama
,
Papua New Guinea
,
Paraguay
,
Paraparaumu
,
Paris
,
Pekanbaru
,
Pennsylvania
,
Perth
,
Peru
,
Petaling Jaya
,
Philippines
,
Pietermaritzburg
,
Qatar
,
Qatif
,
Qingdao
,
Qom
,
Rabat
,
Rajshahi
,
Rancagua
,
Ras al Khaimah
,
Regina
,
Reims
,
Rennes
,
Resistencia
,
Reunion
,
Rhode Island
,
Riffa
,
Sagamihara
,
Saguenay
,
Saint Lucia
,
Sakai
,
Salmiya
,
Salta
,
Samoa
,
San Juan
,
San Lorenzo
,
San Luis
,
San Marino
,
San Miguel de Tucuman
,
San Salvador de Jujuy
,
Sandakan
,
Santa Cruz de la Sierra
,
Santa Fe
,
Santa Rosa
,
Santiago
,
Santiago del Estero
,
Sanya
,
Sapporo
,
Saskatoon
,
Saudi Arabia
,
Seeb
,
Semarang
,
Sendai
,
Senegal
,
Seoul
,
Serbia
,
Seremban
,
Seychelles
,
Shah Alam
,
Shanghai
,
Sharjah
,
Shenyang
,
Tabriz
,
Tabuk
,
Taiwan
,
Taiyuan
,
Tajikistan
,
Takamatsu
,
Talca
,
Tamworth
,
Tandil
,
Tanzania
,
Tarija
,
Tasikmalaya
,
Tauranga
,
Tehran
,
Temuco
,
Tennessee
,
Texas
,
Thailand
,
Thames
,
Thiruvananthapuram
,
Thunder Bay
,
Tianjin
,
Tijuana
,
Timor Leste
,
Togo
,
UAE
,
Uganda
,
UK
,
Ukraine
,
Ulsan
,
United Arab Emirates
,
United Kingdom
,
United States of America
,
United States Virgin Islands
,
Valparaiso
,
Vancouver
,
Vanuatu
,
Venezuela
,
Venice
,
Vermont
,
Wagga Wagga
,
Waitakere City
,
Wakayama
,
Warrnambool
,
Washington
,
Wellington
,
Wenzhou
,
West Virginia
,
Western Sahara
,
Westport
,
Xiamen
,
Yantai
,
Yaounde
,
Yellowknife
,
Yemen
,
Zambia
,
Zhengzhou
,
Zhuhai
,