Hire Dot Net Developer From India - Affordable And Scalable Solutions
Hire Dedicated Dot Net Developers From India And Experience Super Affordable And High-Performing Services
Every company wants to boost its Websites with unique concepts, designs, reliability, compatibility and security in the market. Silicon Valley - India has 19+ years of experience as an IT Consultancy Firm. Our team of Dot Net Software Developers are talented and knowledgeable that they can develop extraordinary Web Applications to make your website stand unique in the market as they use the latest methodology and technology. Hire dedicated Net developer and enjoy flexible developing experience -
Benefits of Latest Technology
Fast and easy Hiring Process
Security and Confidentiality
Flexible Hiring Models
Choose the Dedicated C# .Net Developers from our Hiring Models
Full Time
Part Time
Hourly Basis
Full Time Dedicated Developers
8 Hours a day, 40 hours a week.
Total : 160 hours a month
2 Year Experienced: $ 1100.
3 year Experienced : $ 1350
4 year Experienced : $ 1500.
7 Year Experienced : $ 2000
Part Time Dedicated Developers
8 Hours a day, 20 hours a week.
Total : 80 hours a month
2 Year Experienced : $ 600
3 year Experienced : $ 700
4 year Experienced : $ 800
7 Year Experienced : $ 1100
Hire Developers on Hourly Basis
Any duration
Minimum 8 hours hiring.
2 Year Experienced : $ 10.
3 year Experienced : $ 11
4 year Experienced : $ 12.
7 Year Experienced : $ 15
Hire C# Developer -
Hire Full Stack Front-End and Back-End Dot Net Software Developer
Our Full Stack Developer, Offshore Dot Net Programmers, operate in all the branches of an application, software and technology. Hire Dot Net Programmers - India who have mastery in programming front-end and back-end scripting languages. Hire C Sharp Developers proficient in front-end development in more than one language. Hire C# Developer with skills and experience developing a user interface for Web and Mobile Applications through CSS, HTML, and Javascript. Our offshore Dot Net Programmers deliver custom solutions per your business requirement. Hire Net Developer with rich experience in using a database like SQL Server, Post Gre SQL, MySQL, etc., per your requirements to expand your company name in the market.
C# .Net Application Development
Outsource and Hire our Asp.Net Developers as we have a great team of highly skilled experts who know all the programming languages for the best Application Development.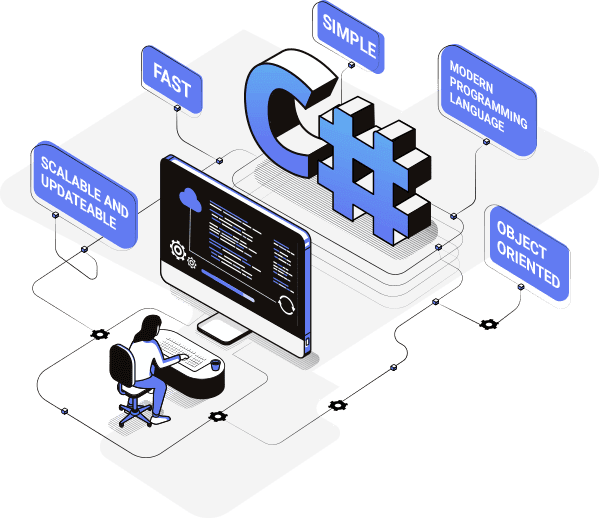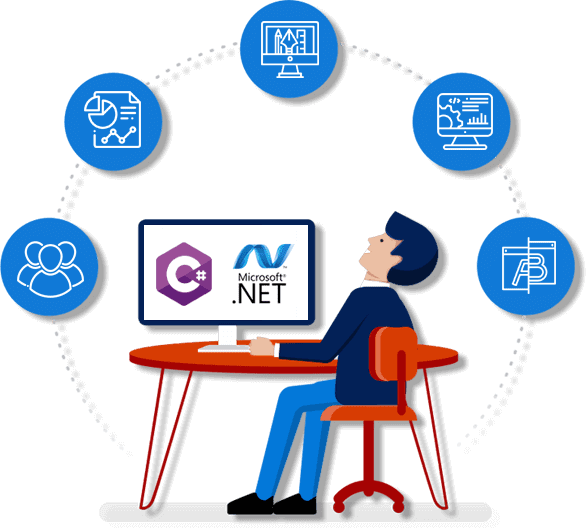 C# .Net Web Development
Hire our Asp.Net Programmers - India for your firm's Web Development as our Developers have the skills to develop unique Web Applications for your company to stand in the competitive market with all the solutions.
Hiring Dedicated Programmers are only a Mouse Click away.
Hire Asp.Net Developers and customize your web application
C# .Net Customization Service
Our squad of experts comprehend how to customize reliable, robust and scalable Web Applications uniquely and stand different from competitors with all the required solutions for the problems which arise.
C# .Net Maintenance and Support Service
You can choose any model from our Hiring model and develop your Web Application with proper maintenance and support service for your business Web Development.
C# .Net Database Management Services
We deliver the most acceptable quality ASP.Net web development solutions to provide you best services that accomplish your requirements with a proper Database Management System.
Outsource C# Asp.Net Development from Silicon Valley - India
Outsource and Hire Our Dot Net Framework Skills 
At Silicon Valley - India, we help outsourcing of ASP DOT NET designing services to support and accelerate your business in the competitive market with Dot Net Development company. Our firm has experienced, talented and qualified Programmers with extraordinary skill sets to create the best Cloud-based Mobile and Web Applications for your Business Development. They provide the next-generation solutions to your company at one-third of the cost. Our Asp.Net Developers have expertise in programmings various Asp.Net Development programmes like .Net Application Development, .Net Web Development, Dot Net Customization Service, .Net Maintenance and Support Service and Database Management Services.
Hire C# Programmer with skills and experience in designing reliable, scalable and secure web applications for your developing business. But if you hire a freelance .NET web developer for your task, they may not complete it on time and give fruitful results.
How to Hire Dedicated Net Developer With Us?
Choose the best that fits well within your budget without compromising the Quality  

We Offer Cost-Effective and Qualitative Services
When you are planning to Hire Developers, Silicon Valley is at your doorstep with end-to-end solutions for all your C# .Net Development and Customization requirements.
Unlock The Power Of Net Web Development With Our Expert Team Of Developers And Programmers
Hire From The Ranked #1 Affordable Tech Solutions Provider In India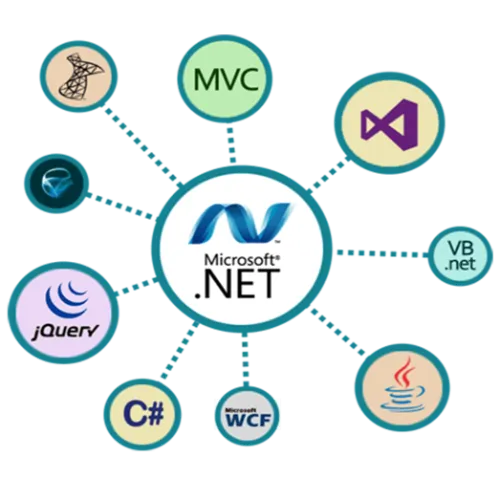 Are you looking to hire a team of experienced Net web developers or programmers for your project? Outsourcing your development needs to a reliable and competent team can save you time and money and ensure that your project is completed on time and to your satisfaction. With the right skills and expertise, Net web developers and programmers can design, develop, and maintain high-quality web applications that meet your business needs. So, whether you are looking to hire Net web developers or programmers, or outsource your project to a team of professionals, choose Silicon Valley, a reputable and experienced provider, to get the job done right.
Build Your Team
Frequently Asked Questions
Cairns
,
Cali
,
Cambridge
,
Campinas
,
Canberra
,
Cape Town
,
Caracas
,
caribbean
,
Cartagena
,
Chandigarh
,
Chennai
,
Chile
,
China
,
Christiania
,
Ciudad Guayana
,
Ciudad Juarez
,
Cochin
,
Cologne
,
Colombia
,
Copenhagen
,
Cordoba
,
Costa Rica
,
Cotedazur
,
Cuba
,
Curitiba
,
Cyprus
,
Dammam
,
Darwin
,
Delhi
,
Denmark
,
Dom Republic
,
Dortmund
,
Dubai
,
Dublin
,
Duisburg
,
Duque de Caxias
,
Durban
,
Ecatepec
,
Ecuador
,
Edinburgh
,
Egypt
,
El Salvador
,
Essen
,
Estonia
,
Ethiopia
,
Fiji
,
Finland
,
Florence
,
Fortaleza
,
France
,
Frankfurt
,
Gaza Strip
,
Gdansk
,
Genoa
,
Germany
,
Ghana
,
Glasgow
,
Goiania
,
Gold Coast
,
Gothenburg
,
Greece
,
Guadalajara
,
Guarulhos
,
Guatemala
,
Guayaquil
,
Hamburg
,
Hannover
,
Hordaland
,
Hungary
,
Hyderabad
,
Ipoh
,
Iran
,
Iraq
,
Ireland
,
Israel
,
Italy
,
Japan
,
Jeddah
,
Jerusalem
,
Johannesburg
,
Johor Bahru
,
Jordan
,
Kazakhstan
,
Kenya
,
Kolkata
,
Krakow
,
Kristiania
,
Kuala Lumpur
,
Kuwait
,
La Plata
,
Lagos
,
Latin America
,
Latvia
,
Lebanon
,
Leeds
,
Leipzig
,
Leon
,
Libya
,
Lima
,
Lisbon
,
Lithuania
,
Liverpool
,
Logan City
,
London
,
Lyon
,
Maceio
,
Madrid
,
Malaga
,
Malaysia
,
Manaus
,
Manchester
,
Maracaibo
,
Marseille
,
Mecca
,
Medellin
,
Medina
,
Melbourne
,
Mendoza
,
Mexico City
,
Milan
,
Monterrey
,
Montevideo
,
Morocco
,
Mumbai
,
Munich
,
Murcia
,
Muscat
,
Nairobi
,
Naples
,
Natal
,
Netherlands
,
New South Wales
,
Newcastle
,
Nicaragua
,
Nigeria
,
Norway
,
Nova Iguacu
,
Nuremberg
,
Oman
,
Oslo
,
Oxford
,
Palermo
,
Palma
,
Panama
,
Paris
,
Perth
,
Peru
,
Philippines
,
Poland
,
Porto Alegre
,
Portugal
,
Prague
,
pretoria
,
Puebla
,
Puerto Rico
,
Pune
,
Qatar
,
Queensland
,
Quito
,
Recife
,
Riga
,
Rio de Janeiro
,
Riyadh
,
Romania
,
Rome
,
Rosario
,
Rotterdam
,
Salvador
,
Santa Cruz
,
Santiago
,
Sao Goncalo
,
Sao Luis
,
Sao Paulo
,
Saudi Arabia
,
Sevilla
,
Shanghai
,
Sheffiel
,
Shenzhen
,
Singapore
,
Sofia
,
South Africa
,
South Australia
,
Spain
,
Stockholm
,
Sweeden
,
Switzerland
,
Sydney
,
Taiwan
,
Tasmania
,
Tel Aviv
,
Tel Aviv Yafo
,
The Hague
,
Tijuana
,
Tokyo
,
Toulouse
,
Tucuman
,
Tunisia
,
Turin
,
Turkey
,
UAE
,
United Arab Emirate
,
United Kingdom
,
United States
,
Uruguay
,
Us Virgin Islands
,
Valencia
,
Venezuela
,
Venice
,
Victoria
,
Vienna
,
Vietnam
,
Vilnius
,
Warsaw
,
West Bank
,
Western Australia
,
Wollongong
,
Wroclaw
,
Zapopan
,
Zaragoza
,
Hong Kong
,
Iceland
,
Long Island
,
Madagascan
,
Massachusetts
,
Mexico
,
Moscow
,
New Delhi
,
New Hampshire
,
North Korea
,
Nottingham
,
Oklahoma
,
Ontario
,