Hiring an Open Programmer to enrich your Business Web Development
Hire Open Source Software Developer to Customize your Web Apps
At Silicon Valley - India, we have an expert and exceptional web Development company which offers hiring services at a very affordable and cost-effective price. You can hire our Open Source Developer in light of your task or project requirement and your financial plan in your firm. When you hire us, we can devote our master team of open-source programmers to your project, confirming and completing the task effectively and successfully as you want within the specified period.
Timely Delivery of Projects
Maintenance and Support
Unique and New Ideas
Attractive Web Application
Choose the Dedicated Open Source Developers from our Hiring Models
Full Time
Part Time
Hourly Basis
Full Time Dedicated Developers
8 Hours a day, 40 hours a week.
Total : 160 hours a month
2 Year Experienced: $ 1100.
3 year Experienced : $ 1350
4 year Experienced : $ 1500.
7 Year Experienced : $ 2000
Part Time Dedicated Developers
8 Hours a day, 20 hours a week.
Total : 80 hours a month
2 Year Experienced : $ 600
3 year Experienced : $ 700
4 year Experienced : $ 800
7 Year Experienced : $ 1100
Hire Developers on Hourly Basis
Any duration
Minimum 8 hours hiring.
2 Year Experienced : $ 10.
3 year Experienced : $ 11
4 year Experienced : $ 12.
7 Year Experienced : $ 15
Hire Open Source Full Stack Developer
Hire Open Source Full Stack Programmer for all your Front-end and Back-end Needs
Hire our Open Source Full Stack Software Developers who are skilled and experienced in designing innovative and adorable web applications and assembling customized tools through front-end and back-end scripting languages that can accomplish your company goals. Hire our Open Programmer who has experience and knowledge in the latest Open Source methodology and technology and complete your project or task and deliver as per your requirement.
Open Source Theme Design
Our Open Source Theme Design are experts in open Source Theme Design Customization. Open Source Programmers are experts in customizing open source themes using the latest tools or techniques at an affordable cost for our clients across the globe.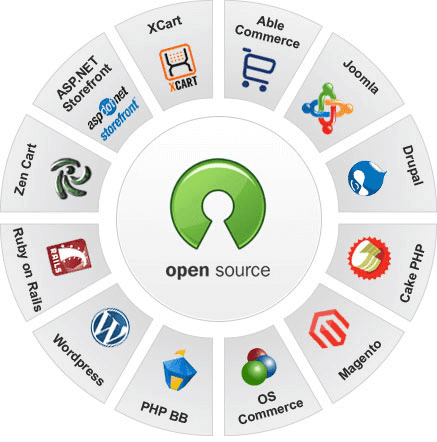 Open Source Customization
Open Source Developers are specialists who can utilize Open Source Programming to create your applications and framework. Hire Open Source Programmers with broad skills and experience in creating highlight rich applications that upgrade your business esteem.
Hire the Best Open Source Developer team for Interactive App Development
Hire Open Source Coders for Efficient and Operational Web Development
Open Source eCommerce Development
Our Programmers have the experience and skills to evaluate the associated mechanism of web applications and their segments to help your tools and contribute to business technology on all platforms.
Open Source CMS Development
Our Open Source Developer has skills and knowledge in creating and delivering excellent Open Source CMS with custom module advancement and accessible customized theme/design development across famous Open Source platforms as framed underneath.
Open Source Web Development
Our Open Source Web Developers have talent and experience in designing attractive websites and serving unique Open Source solutions to clients as per their needs. Our Open Source Web Development Services are cost-productive, convenient and highest quality.
Hire Outstanding Open Source Developer in India at an Affordable Cost
Hire Open Source Designers team for Advantageous and Noteworthy turns for Web Application Development
Hire our Open Source Coder as we empower you to enable a suitable solution that is adaptable, scalable and created with advanced technology that will be easy to coordinate with outsider applications. Hire an Open Source Web Designer from our pool of talented developers who productively customize the solution to match your precise business needs. Our Open Source web designer gives feature-rich applications while improving and enhancing your internet-based business with our Open Source advanced technologies.
Steps to Hire C# Asp.Net Developers from Silicon Valley - India
Choose the best that fits well within your budget without compromising the Quality  

We Offer Cost-Effective and Qualitative Services
When you are planning to Hire Developers, Silicon Valley is at your doorstep with end to end solutions for all your C# .Net Development and Customization requirements.
Frequently Asked Questions
Cairns
,
Cali
,
Cambridge
,
Campinas
,
Canberra
,
Cape Town
,
Caracas
,
caribbean
,
Cartagena
,
Chandigarh
,
Chennai
,
Chile
,
China
,
Christiania
,
Ciudad Guayana
,
Ciudad Juarez
,
Cochin
,
Cologne
,
Colombia
,
Copenhagen
,
Cordoba
,
Costa Rica
,
Cotedazur
,
Cuba
,
Curitiba
,
Cyprus
,
Dammam
,
Darwin
,
Delhi
,
Denmark
,
Dom Republic
,
Dortmund
,
Dubai
,
Dublin
,
Duisburg
,
Duque de Caxias
,
Durban
,
Ecatepec
,
Ecuador
,
Edinburgh
,
Egypt
,
El Salvador
,
Essen
,
Estonia
,
Ethiopia
,
Fiji
,
Finland
,
Florence
,
Fortaleza
,
France
,
Frankfurt
,
Gaza Strip
,
Gdansk
,
Genoa
,
Germany
,
Ghana
,
Glasgow
,
Goiania
,
Gold Coast
,
Gothenburg
,
Greece
,
Guadalajara
,
Guarulhos
,
Guatemala
,
Guayaquil
,
Hamburg
,
Hannover
,
Hordaland
,
Hungary
,
Hyderabad
,
Ipoh
,
Iran
,
Iraq
,
Ireland
,
Israel
,
Italy
,
Japan
,
Jeddah
,
Jerusalem
,
Johannesburg
,
Johor Bahru
,
Jordan
,
Kazakhstan
,
Kenya
,
Kolkata
,
Krakow
,
Kristiania
,
Kuala Lumpur
,
Kuwait
,
La Plata
,
Lagos
,
Latin America
,
Latvia
,
Lebanon
,
Leeds
,
Leipzig
,
Leon
,
Libya
,
Lima
,
Lisbon
,
Lithuania
,
Liverpool
,
Logan City
,
London
,
Lyon
,
Maceio
,
Madrid
,
Malaga
,
Malaysia
,
Manaus
,
Manchester
,
Maracaibo
,
Marseille
,
Mecca
,
Medellin
,
Medina
,
Melbourne
,
Mendoza
,
Mexico City
,
Milan
,
Monterrey
,
Montevideo
,
Morocco
,
Mumbai
,
Munich
,
Murcia
,
Muscat
,
Nairobi
,
Naples
,
Natal
,
Netherlands
,
New South Wales
,
Newcastle
,
Nicaragua
,
Nigeria
,
Norway
,
Nova Iguacu
,
Nuremberg
,
Oman
,
Oslo
,
Oxford
,
Palermo
,
Palma
,
Panama
,
Paris
,
Perth
,
Peru
,
Philippines
,
Poland
,
Porto Alegre
,
Portugal
,
Prague
,
pretoria
,
Puebla
,
Puerto Rico
,
Pune
,
Qatar
,
Queensland
,
Quito
,
Recife
,
Riga
,
Rio de Janeiro
,
Riyadh
,
Romania
,
Rome
,
Rosario
,
Rotterdam
,
Salvador
,
Santa Cruz
,
Santiago
,
Sao Goncalo
,
Sao Luis
,
Sao Paulo
,
Saudi Arabia
,
Sevilla
,
Shanghai
,
Sheffiel
,
Shenzhen
,
Singapore
,
Sofia
,
South Africa
,
South Australia
,
Spain
,
Stockholm
,
Sweeden
,
Switzerland
,
Sydney
,
Taiwan
,
Tasmania
,
Tel Aviv
,
Tel Aviv Yafo
,
The Hague
,
Tijuana
,
Tokyo
,
Toulouse
,
Tucuman
,
Tunisia
,
Turin
,
Turkey
,
UAE
,
United Arab Emirate
,
United Kingdom
,
United States
,
Uruguay
,
Us Virgin Islands
,
Valencia
,
Venezuela
,
Venice
,
Victoria
,
Vienna
,
Vietnam
,
Vilnius
,
Warsaw
,
West Bank
,
Western Australia
,
Wollongong
,
Wroclaw
,
Zapopan
,
Zaragoza
,
Hong Kong
,
Iceland
,
Long Island
,
Madagascan
,
Massachusetts
,
Mexico
,
Moscow
,
New Delhi
,
New Hampshire
,
North Korea
,
Nottingham
,
Oklahoma
,
Ontario
,