Extraordinary Quality Monitoring and Reliability with Curtain Wall Detailing Services
Curtain Wall Facade Detailing Services for the perfect facade.
A building's curtain wall detailing is its non-structural exterior layer (coverage). The design, production, and installation of curtain wall systems used to cover a building's façade are all included in curtain wall detailing services. These structural solutions help the building's appearance, protection from the weather, and insulation. A crucial element of the façade technology used in high-rise structures is the curtain wall system. Facade Detailing Services comprise a variety of components, such as window walls, cladding, and curtain walls, which taken together give the building its outside aspect.
Our engineers, facade detailers, and designers at Silicon Valley provide thorough Curtain Wall Shop Drawings to guarantee the dependability and strength of the structure's Curtain Wall Systems. Our Curtain Wall Shop Drawings Services are comprehensive plans for installing, using, and maintaining Curtain Wall Systems. We commit ourselves to providing accurate and illustrative curtain wall shop drawings services using modern technology and resources since we recognise how important accuracy and precision are for curtain wall detailing services.
Various Curtain Wall Detailing Techniques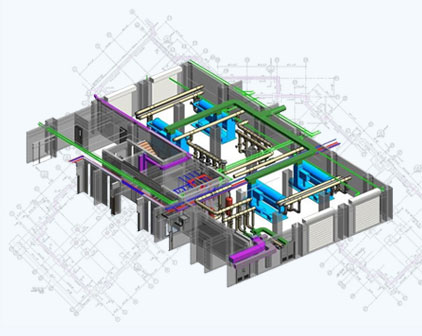 All building projects involving the installation of curtain wall systems must include curtain wall detailing. Building exteriors are covered with these unstructured solutions, which offer aesthetic, weatherproofing, and insulating benefits. There are several Curtain Wall Detailing varieties, each with special qualities and benefits. The top five curtain wall detailing services are as follows:
Stick-built Curtain Wall Detailing
Unitized Curtain Wall Detailing
Semi-Unitized Curtain Wall Detailing
Structural Glazing Curtain Wall Detailing
Point-supported Curtain Wall Detailing
Each of these curtain wall facade detailing services has its advantages based on the size and architecture of the structure, the complexity of the installation, and the intended appearance.
Superior Curtain Wall Detailing Services with Automated Procedures
Accuracy as well as precision are essential for success at every stage.
We at Silicon Valley follow the standard and scheduled procedure for curtain wall detailing services to deliver accurate, error-free curtain wall shop drawings services that aid our clients in executing successful structure processes and enable the efficient execution of the dependable building process.
Understanding the Project Requirements = Understanding the project requirements is the initial and most important phase. The chosen type of curtain wall system, the building design, and the precise information that has to be included in the designs must all be thoroughly recognized.
Design and Drafting = The next stage is to start the design and drawing process when the necessary data has been acquired. Making a Curtain Wall Shop is required. A visual representation of the curtain wall system with all required information including profiles, joints, and connections.
Fabrication and Installation = The Curtain Wall System may now be created and placed on the building facade with the help of the authorised Curtain Wall Shop Drawing. Making ensuring that the installation is completed in accordance with the Curtain Wall Drawings that have been authorised and that all safety regulations are followed is crucial.
Site Survey and Measurements = Following the definition of the project specifications, a site survey, and precise measurements of the building facade are the following steps. The Curtain Wall System will fit correctly and perform exactly as intended as a result of this crucial step.
Review and Approval = The Curtain Wall Drawing has to be reviewed to make sure it complies with the project criteria once the design and drafting are finished. Verification of completeness, correctness, and compliance with building codes and regulations are all part of the process. The Curtain Wall Drawings are used for production and installation once they have been approved.
Quality Control and Inspection = Finally, to make sure the Curtain Wall System is operating correctly and satisfies all relevant standards and regulations, a complete quality control and inspection procedure should be conducted.
As a result, according to these guidelines for Curtain Wall Detailing Services may assist guarantee a fruitful and high-quality result. You can make sure that your curtain wall system will be functional, durable, and attractive by comprehending the project requirements, executing a site survey and taking measurements, designing and drafting the details, reviewing and approving the drawings, fabricating and installing the system, and performing quality control and inspection.
The Best Curtain Wall Detailing Services We Can Provide
Your top choice for high-quality curtain wall shop drawing services.
Silicon Valley, a market-leading provider of curtain wall detailing services, is aware of the need to provide precise and high-quality curtain wall shop drawings for building assignments. Our skilled team of designers, engineers, and detailers is equipped with the knowledge and abilities to handle all facets of curtain wall detailing, including design, Architectural Drafting Services, and fabrication.
Silicon Valley offers a range of Curtain Wall Detailing Services, including Curtain Wall Facade Detailing Services, Curtain Wall Shop Drawing Services, and Curtain Wall Detail Drawings Services. We can provide precise shop drawings that adhere to all relevant building rules and regulations thanks to our advanced software and technologies.
As part of our services, we provide outsourcing for curtain wall detailing. You may save money, get access to specialized knowledge, accelerate project timeframes, boost productivity, and scale up your business by outsourcing Curtain Wall Detailing Services to us. Utilizing our curtain wall detailing services ensures that your project will be finished on schedule and to a high standard.
We are dedicated to offering quality service and support to our clients throughout the whole project lifetime. Whether you need help with design, drawing, manufacturing, or installation, our staff has the essential knowledge and experience to guarantee the task's success.
Ultimately, Silicon Valley is your best option if you require Curtain Wall Detail Drawings Services. Our highly qualified staff, cutting-edge software and tools, and commitment to exceeding client expectations make us the ideal partner for your curtain wall detailing needs.
Frequently Asked Questions
We hope these faqs have helped address your concerns about our Curtain Wall Detailing Services. For further assistance, kindly visit our website. Our team will be delighted to schedule a consultation as early as possible.
Alor Setar
,
American Samoa
,
Ampang
,
Amsterdam
,
Andorra
,
Ang Mo Kio
,
Angola
,
Anguilla
,
Antananarivo
,
Antofagasta
,
Antwerp
,
Argentina
,
Arica Chile
,
Arizona
,
Arkansas
,
Armenia
,
Aruba
,
Asuncion
,
Auckland
,
Aurangabad
,
Australia
,
Austria
,
Azerbaijan
,
Bhutan
,
Birmingham
,
Bloemfontein
,
Bolivia
,
Bordeaux
,
Botswana
,
Bradford
,
Brampton
,
Brazil
,
Brazzaville
,
Brisbane
,
Bristol
,
British Virgin Islands
,
Broome
,
Bruges
,
Brunei
,
Buenos Aires
,
Bukit Batok
,
Bulgaria
,
Bunbury
,
Bundaberg
,
Buraydah
,
Burkina Faso
,
Burnie
,
Burundi
,
Busan
,
Chittagong
,
Choa Chu Kang
,
Chongqing
,
Christchurch
,
City of Brussels
,
City of Sydney
,
Clarendon Parish
,
Cochabamba
,
Coffs Harbour
,
Cologne
,
Colombia
,
Colorado
,
Comodoro Rivadavia
,
Comoros
,
Concepcion
,
Congo
,
Connecticut
,
Cook Islands
,
Copiapo
,
Cordoba
,
Corrientes
,
Costa Rica
,
Cote d Ivoire
,
Coventry
,
Croatia
,
Cuba
,
Curacao
,
Cyprus
,
Czech Republic
,
Dhaka
,
Djibouti
,
Dodoma
,
Doha
,
Dominica
,
Dominican Republic
,
Dongguan
,
Douala
,
Dubai
,
Dubbo
,
Dublin
,
Dunedin
,
Durban
,
Eldoret
,
England
,
Equatorial Guinea
,
Erbil
,
Eritrea
,
Estonia
,
Ethiopia
,
France
,
Frankfurt
,
Freetown
,
Fremantle
,
French Guiana
,
French Polynesia
,
Fujairah
,
Fukuoka
,
Fuzhou
,
Greater Sudbury
,
Greece
,
Greenland
,
Grenada
,
Grenoble
,
Guadalajara
,
Guadeloupe
,
Guam
,
Guangzhou
,
Guatemala
,
Guatemala City
,
Guelph
,
Guilin
,
Guinea
,
Guinea Bissau
,
Guiyang
,
Guyana
,
Gwangju
,
Hat Yai
,
Hawaii
,
Hefei
,
Hermosillo
,
Hillah
,
Himeji
,
Hiroshima
,
Hobart
,
Hokitika
,
Honduras
,
Hong Kong
,
Hungary
,
Hyderabad
,
Ipoh
,
Iquique
,
Iran
,
Iraq
,
Ireland
,
Isfahan
,
Isle of Man
,
Israel
,
Italy
,
Jinan
,
Johannesburg
,
Johor Bahru
,
Jordan
,
Kiribati
,
Kirkuk
,
Kisumu
,
Kitakyushu
,
Kitchener
,
Klang
,
Kobe
,
Kochi
,
Kolkata
,
Kota Bharu
,
Kota Kinabalu
,
Kowloon
,
Kuala Lumpur
,
Kuala Terengganu
,
Kuantan
,
Kuching
,
Kumamoto
,
Kunming
,
Kurashiki
,
Kuwait
,
Kuwait City
,
Kyoto
,
Kyrgyzstan
,
Liechtenstein
,
Liege
,
Lille
,
Lismore
,
Lithuania
,
Liverpool
,
London
,
London ca
,
Louisiana
,
Lower Hutt
,
Luanda
,
Ludhiana
,
Luoyang
,
Lusaka
,
Lushoto District
,
La Serena Chile
,
Lyon
,
La Rioja
,
Mendoza
,
Merida
,
Mexico
,
Mexico City
,
Michigan
,
Milan
,
Mildura
,
Minnesota
,
Miri Malaysia
,
Mississauga
,
Mississippi
,
Missouri
,
Mito
,
Miyazaki
,
Moldova
,
Mombasa
,
Monaco
,
Moncton
,
Mongolia
,
Monrovia
,
Montana
,
Montego Bay
,
Montenegro
,
Montpellier
,
Montreal
,
Montserrat
,
Morioka
,
Morocco
,
Mosul
,
Motueka
,
Mount Gambier
,
Mozambique
,
Muharraq
,
Mumbai
,
Munich
,
Muscat
,
Muttrah
,
Mwanza
,
Myanmar
,
Mymensingh
,
New Delhi
,
New Hampshire
,
New Jersey
,
New Mexico
,
New Plymouth
,
New York
,
New Zealand
,
Newcastle
,
Niagara
,
Nicaragua
,
Nice
,
Niger
,
Nigeria
,
Niigata
,
Nineveh Governorate
,
Ningbo
,
Niue
,
Noida
,
North Carolina
,
North Dakota
,
North Korea
,
Northern Mariana Islands
,
Norway
,
Nowra
,
Oruro
,
Osaka
,
Oshawa
,
Otorohanga
,
Ottawa
,
Ouagadougou
,
Oxford
,
Poland
,
Pontianak
,
Porirua
,
Port Elizabeth
,
Port Harcourt
,
Port Macquarie
,
Portmore Jamaica
,
Portugal
,
Posadas
,
Potosi
,
Pretoria
,
Puente Alto
,
Puerto Madryn
,
Puerto Montt
,
Puerto Rico
,
Pukekohe
,
Pune
,
Quebec City
,
Queenstown
,
Quilmes
,
Quilpue
,
Queanbeyan
,
Rio Cuarto
,
Río Gallegos
,
Riyadh
,
Rockhampton
,
Romania
,
Rome
,
Rosario
,
Rotorua
,
Rotterdam
,
Rouen
,
Russia
,
Rwanda
,
Shenzhen
,
Shepparton
,
Sherbrooke
,
Shijiazhuang
,
Shiraz
,
Sibu
,
Sierra Leone
,
Singapore
,
Sint Maarten
,
Slovakia
,
Slovenia
,
Sohar
,
Solomon Islands
,
Somalia
,
South Africa
,
South Carolina
,
South Dakota
,
South Korea
,
South Sudan
,
Soweto
,
Spain
,
Spanish Town
,
Sri Lanka
,
St Johns
,
Strasbourg
,
Sucre
,
Sudan
,
Sungai Petani
,
Surabaya
,
Surat
,
Suriname
,
Surrey
,
Suzhou
,
Swaziland
,
Sweden
,
Switzerland
,
Sydney
,
Sylhet
,
Syrian
,
Tokelau Vatican City
,
Tokoroa
,
Tokyo
,
Tonga
,
Toowoomba
,
Toronto
,
Toulouse
,
Townsville
,
Toyama
,
Toyohashi
,
Trelew
,
Trier
,
Trinidad
,
Tripoli
,
Trois Rivieres
,
Tsuen Wan
,
Tunis
,
Tunisia
,
Turin
,
Turkey
,
Turkmenistan
,
Tuvalu
,
Tweed Heads
,
Uruguay
,
Urumqi
,
US
,
USA
,
Utah
,
Utsunomiya
,
Uzbekistan
,
Upper Hutt
,
Victoria
,
Vietnam
,
Vina del Mar
,
Virginia
,
Visakhapatnam
,
Whanganui
,
Whangarei
,
Windhoek
,
Windsor
,
Winnipeg
,
Winterthur
,
Wisconsin
,
Wodonga
,
Wollongong
,
Wuhan
,
Wuxi
,
Wyoming
,
Xian
,
Xining
,
Yokohama
,
Yongin
,
Yuen Long Kau Hui
,
Zimbabwe
,
Zurich