Exploring Our Role in Rebar Detailing Services Provider!
Fundamentals of Rebar CAD Services!
Silicon Valley is involved in the structure industry and serves the purpose of Reinforcement Detailing Services. These stand general in distinct measurements, diameters, and degrees of stability. Rebar Detailing Services is a technical drawing showing the rebar layout and its connections in a structure. Also, it is a critical component of the structural Design and Drawing process. These CAD drawings include related rebar details such as extent, size, spacing between each strand, and its cross-sectional diameter.
Silicon Valley is a guiding consultancy specializing in Beam Rebar Detailing, Stair Rebar Detailing, Column Rebar Detailing, Retaining Wall Rebar Detailing, Rebar Detailing Shop Drawing Services, Concrete masonry detailing, Rally Rebar Detailing Services, and Rebar CAD Services. Rebar Detailing defines the property of the bars used in the building infrastructure that strengthens the concrete used in the structure process. Rebar Detailing Services works to toughen the Structural Steel Fabrication Drawing Services and rebar Detailing Drawings Services during the building phase.
How is Silicon Valley different from others in offering Rebar Detailing Shop Drawing Services?
Services We Extend as Rebar Detailing Provider!
Here at Silicon Valley, Our Collaboration is exclusively on building progressive 3D Rebar Modeling structures for commercial, institutional, industrial, infirmary, and residential projects. We produce 3D Drawings of the steel project using the latest software to ensure our estimation using Tekla Structures, AutoCAD Rebar, StruCad, and Rebar CAD equipment. The Rebar Detailers of Silicon Valley design the Rebar Shop Drawings and Precast Panel Detailing Services that draft the standing and size of Steel Bars in concrete slabs.
Building commercial, industrial, and residential projects using StruCad's advanced software platform allows us to get accurate estimates for buildings based on their current requirements during formation or remodeling. Tekla Structures is software for structural analysis and design.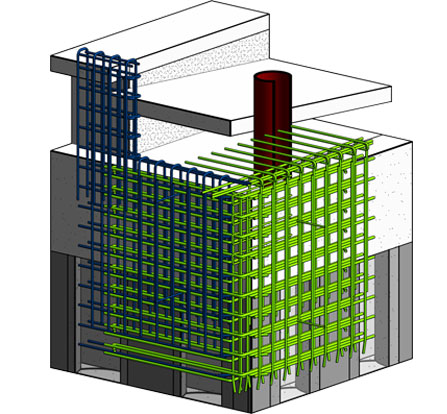 Different Phases in rendering the Rebar Detailing Services
We know the importance of delivering High-Quality Rebar CAD services.
The clients' requirement is comprehensively analyzed. Discussion leads to masterful planning and plotting by the Rebar Service.
The team carries a smooth communication channel for easy transformation of the project. The plan made is discussed and allotted to the capable Rebar Detailing departments.
The Rebar work is accomplished and administered to quality control and quality analysis for the process of validation.
The authenticated project reports are created with high-grade 3D Rebar Detailing.
Benefits of Rebar Detailing Outsourcing Services
Rebar Design and Detail Services to our experts and get the project accomplished within the stipulated time.
Rebar Detailing Outsourcing Services to a professional CAD Drafter decreases the project's complexity and ensures quick deliverance. It also helps in the accurate cost estimation of your project. At the elementary stage, we provide an accurate quotation to our clients, considering an optimum material cost, additional supplements, and structure cost. Outsourcing your Rebar Shop drawings and Facade Detailing Services provided by certified detailers makes the working and installation technique considerably more effortless.
Some of the important benefits of outsourcing Rebar Detailing Services with Silicon Valley are as follows :
Lowers Project Costs & Time - Our professional Drafters take pride in their technique and ensure excellent quality services at affordable prices. We have an experienced professional team for rendering Tekla Rebar Detailing Services with a quick turnaround time.
Condense project trouble - By outsourcing Rally Rebar Detailing Services work to Silicon Valley, it becomes easy to tackle the risks. It helps in low charge costs of the edifice units that fit into the cost of the customers.
Facilitating the Engineers - Our contributors help significantly reduce building costs and delivery delays. Decreasing your Rebar detailing conditions will help you accomplish these advantages without sacrificing quality. In addition, Rebar Detailing Services can also diminish your general staffing needs by allowing you to hire fewer employees. It often adds more value to the proposal than earlier.
Reduce project complexness - Silicon Valley aims at decreasing complexity and concentrates more on quality consistency. Returning detailed designs that meet the needs and specifications in the quickest amount possible is the prime motive of our company.
Summation
Rebar Detailing is a service that is supplied authentically by the experts of Silicon Valley. Evaluating the mentioned service information, you should look at the factors for availing of the Rebar Detailing Services, including cost-effectiveness, while keeping in mind time constraints.
Frequently Asked Questions
Alor Setar
,
American Samoa
,
Ampang
,
Amsterdam
,
Andorra
,
Ang Mo Kio
,
Angola
,
Anguilla
,
Antananarivo
,
Antofagasta
,
Antwerp
,
Argentina
,
Arica Chile
,
Arizona
,
Arkansas
,
Armenia
,
Aruba
,
Asuncion
,
Auckland
,
Aurangabad
,
Australia
,
Austria
,
Azerbaijan
,
Bhutan
,
Birmingham
,
Bloemfontein
,
Bolivia
,
Bordeaux
,
Botswana
,
Bradford
,
Brampton
,
Brazil
,
Brazzaville
,
Brisbane
,
Bristol
,
British Virgin Islands
,
Broome
,
Bruges
,
Brunei
,
Buenos Aires
,
Bukit Batok
,
Bulgaria
,
Bunbury
,
Bundaberg
,
Buraydah
,
Burkina Faso
,
Burnie
,
Burundi
,
Busan
,
Chittagong
,
Choa Chu Kang
,
Chongqing
,
Christchurch
,
City of Brussels
,
City of Sydney
,
Clarendon Parish
,
Cochabamba
,
Coffs Harbour
,
Cologne
,
Colombia
,
Colorado
,
Comodoro Rivadavia
,
Comoros
,
Concepcion
,
Congo
,
Connecticut
,
Cook Islands
,
Copiapo
,
Cordoba
,
Corrientes
,
Costa Rica
,
Cote d Ivoire
,
Coventry
,
Croatia
,
Cuba
,
Curacao
,
Cyprus
,
Czech Republic
,
Dhaka
,
Djibouti
,
Dodoma
,
Doha
,
Dominica
,
Dominican Republic
,
Dongguan
,
Douala
,
Dubai
,
Dubbo
,
Dublin
,
Dunedin
,
Durban
,
Eldoret
,
England
,
Equatorial Guinea
,
Erbil
,
Eritrea
,
Estonia
,
Ethiopia
,
France
,
Frankfurt
,
Freetown
,
Fremantle
,
French Guiana
,
French Polynesia
,
Fujairah
,
Fukuoka
,
Fuzhou
,
Greater Sudbury
,
Greece
,
Greenland
,
Grenada
,
Grenoble
,
Guadalajara
,
Guadeloupe
,
Guam
,
Guangzhou
,
Guatemala
,
Guatemala City
,
Guelph
,
Guilin
,
Guinea
,
Guinea Bissau
,
Guiyang
,
Guyana
,
Gwangju
,
Hat Yai
,
Hawaii
,
Hefei
,
Hermosillo
,
Hillah
,
Himeji
,
Hiroshima
,
Hobart
,
Hokitika
,
Honduras
,
Hong Kong
,
Hungary
,
Hyderabad
,
Ipoh
,
Iquique
,
Iran
,
Iraq
,
Ireland
,
Isfahan
,
Isle of Man
,
Israel
,
Italy
,
Jinan
,
Johannesburg
,
Johor Bahru
,
Jordan
,
Kiribati
,
Kirkuk
,
Kisumu
,
Kitakyushu
,
Kitchener
,
Klang
,
Kobe
,
Kochi
,
Kolkata
,
Kota Bharu
,
Kota Kinabalu
,
Kowloon
,
Kuala Lumpur
,
Kuala Terengganu
,
Kuantan
,
Kuching
,
Kumamoto
,
Kunming
,
Kurashiki
,
Kuwait
,
Kuwait City
,
Kyoto
,
Kyrgyzstan
,
Liechtenstein
,
Liege
,
Lille
,
Lismore
,
Lithuania
,
Liverpool
,
London
,
London ca
,
Louisiana
,
Lower Hutt
,
Luanda
,
Ludhiana
,
Luoyang
,
Lusaka
,
Lushoto District
,
La Serena Chile
,
Lyon
,
La Rioja
,
Mendoza
,
Merida
,
Mexico
,
Mexico City
,
Michigan
,
Milan
,
Mildura
,
Minnesota
,
Miri Malaysia
,
Mississauga
,
Mississippi
,
Missouri
,
Mito
,
Miyazaki
,
Moldova
,
Mombasa
,
Monaco
,
Moncton
,
Mongolia
,
Monrovia
,
Montana
,
Montego Bay
,
Montenegro
,
Montpellier
,
Montreal
,
Montserrat
,
Morioka
,
Morocco
,
Mosul
,
Motueka
,
Mount Gambier
,
Mozambique
,
Muharraq
,
Mumbai
,
Munich
,
Muscat
,
Muttrah
,
Mwanza
,
Myanmar
,
Mymensingh
,
New Delhi
,
New Hampshire
,
New Jersey
,
New Mexico
,
New Plymouth
,
New York
,
New Zealand
,
Newcastle
,
Niagara
,
Nicaragua
,
Nice
,
Niger
,
Nigeria
,
Niigata
,
Nineveh Governorate
,
Ningbo
,
Niue
,
Noida
,
North Carolina
,
North Dakota
,
North Korea
,
Northern Mariana Islands
,
Norway
,
Nowra
,
Oruro
,
Osaka
,
Oshawa
,
Otorohanga
,
Ottawa
,
Ouagadougou
,
Oxford
,
Poland
,
Pontianak
,
Porirua
,
Port Elizabeth
,
Port Harcourt
,
Port Macquarie
,
Portmore Jamaica
,
Portugal
,
Posadas
,
Potosi
,
Pretoria
,
Puente Alto
,
Puerto Madryn
,
Puerto Montt
,
Puerto Rico
,
Pukekohe
,
Pune
,
Quebec City
,
Queenstown
,
Quilmes
,
Quilpue
,
Queanbeyan
,
Rio Cuarto
,
Río Gallegos
,
Riyadh
,
Rockhampton
,
Romania
,
Rome
,
Rosario
,
Rotorua
,
Rotterdam
,
Rouen
,
Russia
,
Rwanda
,
Shenzhen
,
Shepparton
,
Sherbrooke
,
Shijiazhuang
,
Shiraz
,
Sibu
,
Sierra Leone
,
Singapore
,
Sint Maarten
,
Slovakia
,
Slovenia
,
Sohar
,
Solomon Islands
,
Somalia
,
South Africa
,
South Carolina
,
South Dakota
,
South Korea
,
South Sudan
,
Soweto
,
Spain
,
Spanish Town
,
Sri Lanka
,
St Johns
,
Strasbourg
,
Sucre
,
Sudan
,
Sungai Petani
,
Surabaya
,
Surat
,
Suriname
,
Surrey
,
Suzhou
,
Swaziland
,
Sweden
,
Switzerland
,
Sydney
,
Sylhet
,
Syrian
,
Tokelau Vatican City
,
Tokoroa
,
Tokyo
,
Tonga
,
Toowoomba
,
Toronto
,
Toulouse
,
Townsville
,
Toyama
,
Toyohashi
,
Trelew
,
Trier
,
Trinidad
,
Tripoli
,
Trois Rivieres
,
Tsuen Wan
,
Tunis
,
Tunisia
,
Turin
,
Turkey
,
Turkmenistan
,
Tuvalu
,
Tweed Heads
,
Uruguay
,
Urumqi
,
US
,
USA
,
Utah
,
Utsunomiya
,
Uzbekistan
,
Upper Hutt
,
Victoria
,
Vietnam
,
Vina del Mar
,
Virginia
,
Visakhapatnam
,
Whanganui
,
Whangarei
,
Windhoek
,
Windsor
,
Winnipeg
,
Winterthur
,
Wisconsin
,
Wodonga
,
Wollongong
,
Wuhan
,
Wuxi
,
Wyoming
,
Xian
,
Xining
,
Yokohama
,
Yongin
,
Yuen Long Kau Hui
,
Zimbabwe
,
Zurich
,