Outsource MEAN Stack Development Services - MEAN Stack WEB Development
Accumulate Web Applications with End-to-End MEAN Stack WEB Development Services
MEAN Stack is a user-friendly and open-source Javascript software to build dynamic web applications and websites with ideal solutions. Silicon Valleyis a foremost IT Consultancy Firm with 19+ years of experience serving the best MEAN Stack Development services. Our MEAN Stack Web Application Development Service provider experts ensure simple, robust and highly responsive Web Applications with a unique look and feel for your business. 
Our MEAN stack web development team delivers cutting-edge solutions with versatile and advanced technology for your applications. Our skilful performances will make your business more delegated and effective among your designated crowd.
Outsource MEAN Stack Development Services
Our MEAN Stack Web Development team of experts are skilled, experienced and knowledgeable with the latest versions of MongoDB, ExpressJS, AngularJS and NodeJS. Node.js is a powerful and versatile technology based on JavaScript that has become increasingly popular recently. It allows client-side and server-side development using a single language, making the development process more streamlined and efficient. Additionally, it supports the use of NoSQL databases, which offer numerous benefits over traditional SQL databases. Outsourcing Mean Stack development services is a wise choice for those looking to leverage the power of Node.js and NoSQL databases. In addition, businesses can use our expert developers specializing in this technology to ensure their projects are completed on time and within budget.
MongoDB for Data Storage
MongoDB is a powerful open-source database program that helps develop flexible and scalable Web Applications. Leverage the strength of MongoDB to get satisfactory Web Apps.
ExpressJS for Web Programming
ExpressJS is an adaptable, straightforward and versatile JavaScript-based web application development that empowers the making of dynamic websites with phenomenal qualities.
AngularJS for Front-end Development
AngularJs is a well-known JavaScript framework operated as a thriving technology for front-end development. It broadens the HTML terminology and works with different libraries moreover.
NodeJS for Server-Side Development
NodeJs is one of the unique open-source frameworks utilized to develop profoundly versatile web apps. It is a light, versatile and highly adaptable platform that makes it precise to design web applications. 
Outsource the best
MEAN Stack Development Company
Hire MEAN Stack Development Company in India to take your Firm to the New Heights
Hire Developers
Enterprise MEAN Stack Development
Our company has a dedicated team of MEAN Stack Developers to fuel your enterprise growth expectations with unique solutions and timely delivery of the assigned project.
Maintenance and Support
For every alloted task, our company's MEAN Stack Developers provide post-development maintenance and support services to you if any technological issue or error arises.
Migration Assistance
We ensure the best MEAN Stack development services. Our MEAN stack web development Programmers work focused on offering top-notch and better migration services for your business.
Deployment Assistance
We have a devoted group of MEAN Stack Developers for the deployment of your project with innovative, scalable and dynamic solutions to help you grow your company.
Accelerate your Firm with the best MEAN Stack Development Services
Our Mean Stack developers are proficient in different platforms and craft custom solutions for startups and large companies.
Web and Mobile App Development

Silicon Valley - India is a MEAN Stack Web Development Company with the experts to build versatile and robust web and mobile applications for your business with tailored and unique solutions. We are a leading MEAN Stack Development Company.

CMS Development

If you want to move your website from different stages to NodeJS or move up to the current versions of NodeJS, Silicon Valley - India is always there for your help and to solve your problems.

eCommerce Development

Being an expert MEAN stack web development firm, our programmers assemble secure and responsive dashboards for your eCommerce applications with custom solution services.

API Development

You can hire Silicon Valley - India's committed MEAN Stack Development team of experts to make custom APIs that serve your business needs with the best MEAN Stack Development services.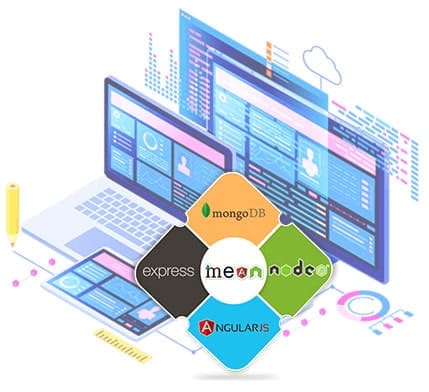 Have an idea for your business project but don't understand how to get started in MEAN stack web development?
As the best MEAN Stack Development firm in India, we have a profoundly dedicated MEAN Stack NodeJs Development Service offering experts who can serve each area by enhancing business needs. At this point, when you hire MEAN Stack Application Development programmers from us, we accept that the pace of outcome of your business will be high in the market. Hence, As a leading MEAN stack development company in Asia, we productively develop your web application, helping you beat your competition elegantly and expeditiously. Connect to our expert 
Frequently Asked Questions
Alor Setar
,
American Samoa
,
Ampang
,
Amsterdam
,
Andorra
,
Ang Mo Kio
,
Angola
,
Anguilla
,
Antananarivo
,
Antofagasta
,
Antwerp
,
Argentina
,
Arica Chile
,
Arizona
,
Arkansas
,
Armenia
,
Aruba
,
Asuncion
,
Auckland
,
Aurangabad
,
Australia
,
Austria
,
Azerbaijan
,
Bhutan
,
Birmingham
,
Bloemfontein
,
Bolivia
,
Bordeaux
,
Botswana
,
Bradford
,
Brampton
,
Brazil
,
Brazzaville
,
Brisbane
,
Bristol
,
British Virgin Islands
,
Broome
,
Bruges
,
Brunei
,
Buenos Aires
,
Bukit Batok
,
Bulgaria
,
Bunbury
,
Bundaberg
,
Buraydah
,
Burkina Faso
,
Burnie
,
Burundi
,
Busan
,
Chittagong
,
Choa Chu Kang
,
Chongqing
,
Christchurch
,
City of Brussels
,
City of Sydney
,
Clarendon Parish
,
Cochabamba
,
Coffs Harbour
,
Cologne
,
Colombia
,
Colorado
,
Comodoro Rivadavia
,
Comoros
,
Concepcion
,
Congo
,
Connecticut
,
Cook Islands
,
Copiapo
,
Cordoba
,
Corrientes
,
Costa Rica
,
Cote d Ivoire
,
Coventry
,
Croatia
,
Cuba
,
Curacao
,
Cyprus
,
Czech Republic
,
Dhaka
,
Djibouti
,
Dodoma
,
Doha
,
Dominica
,
Dominican Republic
,
Dongguan
,
Douala
,
Dubai
,
Dubbo
,
Dublin
,
Dunedin
,
Durban
,
Eldoret
,
England
,
Equatorial Guinea
,
Erbil
,
Eritrea
,
Estonia
,
Ethiopia
,
France
,
Frankfurt
,
Freetown
,
Fremantle
,
French Guiana
,
French Polynesia
,
Fujairah
,
Fukuoka
,
Fuzhou
,
Greater Sudbury
,
Greece
,
Greenland
,
Grenada
,
Grenoble
,
Guadalajara
,
Guadeloupe
,
Guam
,
Guangzhou
,
Guatemala
,
Guatemala City
,
Guelph
,
Guilin
,
Guinea
,
Guinea Bissau
,
Guiyang
,
Guyana
,
Gwangju
,
Hat Yai
,
Hawaii
,
Hefei
,
Hermosillo
,
Hillah
,
Himeji
,
Hiroshima
,
Hobart
,
Hokitika
,
Honduras
,
Hong Kong
,
Hungary
,
Hyderabad
,
Ipoh
,
Iquique
,
Iran
,
Iraq
,
Ireland
,
Isfahan
,
Isle of Man
,
Israel
,
Italy
,
Jinan
,
Johannesburg
,
Johor Bahru
,
Jordan
,
Kiribati
,
Kirkuk
,
Kisumu
,
Kitakyushu
,
Kitchener
,
Klang
,
Kobe
,
Kochi
,
Kolkata
,
Kota Bharu
,
Kota Kinabalu
,
Kowloon
,
Kuala Lumpur
,
Kuala Terengganu
,
Kuantan
,
Kuching
,
Kumamoto
,
Kunming
,
Kurashiki
,
Kuwait
,
Kuwait City
,
Kyoto
,
Kyrgyzstan
,
Liechtenstein
,
Liege
,
Lille
,
Lismore
,
Lithuania
,
Liverpool
,
London
,
London ca
,
Louisiana
,
Lower Hutt
,
Luanda
,
Ludhiana
,
Luoyang
,
Lusaka
,
Lushoto District
,
La Serena Chile
,
Lyon
,
La Rioja
,
Mendoza
,
Merida
,
Mexico
,
Mexico City
,
Michigan
,
Milan
,
Mildura
,
Minnesota
,
Miri Malaysia
,
Mississauga
,
Mississippi
,
Missouri
,
Mito
,
Miyazaki
,
Moldova
,
Mombasa
,
Monaco
,
Moncton
,
Mongolia
,
Monrovia
,
Montana
,
Montego Bay
,
Montenegro
,
Montpellier
,
Montreal
,
Montserrat
,
Morioka
,
Morocco
,
Mosul
,
Motueka
,
Mount Gambier
,
Mozambique
,
Muharraq
,
Mumbai
,
Munich
,
Muscat
,
Muttrah
,
Mwanza
,
Myanmar
,
Mymensingh
,
New Delhi
,
New Hampshire
,
New Jersey
,
New Mexico
,
New Plymouth
,
New York
,
New Zealand
,
Newcastle
,
Niagara
,
Nicaragua
,
Nice
,
Niger
,
Nigeria
,
Niigata
,
Nineveh Governorate
,
Ningbo
,
Niue
,
Noida
,
North Carolina
,
North Dakota
,
North Korea
,
Northern Mariana Islands
,
Norway
,
Nowra
,
Oruro
,
Osaka
,
Oshawa
,
Otorohanga
,
Ottawa
,
Ouagadougou
,
Oxford
,
Poland
,
Pontianak
,
Porirua
,
Port Elizabeth
,
Port Harcourt
,
Port Macquarie
,
Portmore Jamaica
,
Portugal
,
Posadas
,
Potosi
,
Pretoria
,
Puente Alto
,
Puerto Madryn
,
Puerto Montt
,
Puerto Rico
,
Pukekohe
,
Pune
,
Quebec City
,
Queenstown
,
Quilmes
,
Quilpue
,
Queanbeyan
,
Rio Cuarto
,
Río Gallegos
,
Riyadh
,
Rockhampton
,
Romania
,
Rome
,
Rosario
,
Rotorua
,
Rotterdam
,
Rouen
,
Russia
,
Rwanda
,
Shenzhen
,
Shepparton
,
Sherbrooke
,
Shijiazhuang
,
Shiraz
,
Sibu
,
Sierra Leone
,
Singapore
,
Sint Maarten
,
Slovakia
,
Slovenia
,
Sohar
,
Solomon Islands
,
Somalia
,
South Africa
,
South Carolina
,
South Dakota
,
South Korea
,
South Sudan
,
Soweto
,
Spain
,
Spanish Town
,
Sri Lanka
,
St Johns
,
Strasbourg
,
Sucre
,
Sudan
,
Sungai Petani
,
Surabaya
,
Surat
,
Suriname
,
Surrey
,
Suzhou
,
Swaziland
,
Sweden
,
Switzerland
,
Sydney
,
Sylhet
,
Syrian
,
Tokelau Vatican City
,
Tokoroa
,
Tokyo
,
Tonga
,
Toowoomba
,
Toronto
,
Toulouse
,
Townsville
,
Toyama
,
Toyohashi
,
Trelew
,
Trier
,
Trinidad
,
Tripoli
,
Trois Rivieres
,
Tsuen Wan
,
Tunis
,
Tunisia
,
Turin
,
Turkey
,
Turkmenistan
,
Tuvalu
,
Tweed Heads
,
Uruguay
,
Urumqi
,
US
,
USA
,
Utah
,
Utsunomiya
,
Uzbekistan
,
Upper Hutt
,
Victoria
,
Vietnam
,
Vina del Mar
,
Virginia
,
Visakhapatnam
,
Whanganui
,
Whangarei
,
Windhoek
,
Windsor
,
Winnipeg
,
Winterthur
,
Wisconsin
,
Wodonga
,
Wollongong
,
Wuhan
,
Wuxi
,
Wyoming
,
Xian
,
Xining
,
Yokohama
,
Yongin
,
Yuen Long Kau Hui
,
Zimbabwe
,
Zurich
,